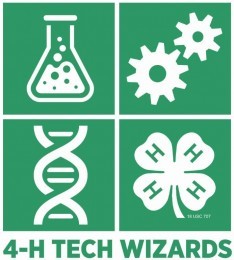 Join us in mentoring the next generation of inventors and out-of-the-box thinkers
This program offers small-group mentoring experiences with a focus on science, technology, engineering, art and math (STEAM) skills. In addition to building positive relationships with their mentors, young people learn about STEAM topics such as robotics, video editing and rocketry. They apply what they learn by conducting a service project of their choice.
Michigan 4-H Tech Wizards is currently operating in Bay, Mason, and Muskegon counties. Stay up-to-date on what we're up to by connecting with us on Facebook and Twitter.
News
Published on July 11, 2018

Simple ways to infuse career exploration into science, technology, engineering, arts and mathematics (STEAM) lessons.
Published on April 4, 2018

Join me in raising your hand to pay it forward to the next generation of 4-H'ers.
Published on December 22, 2017

Muskegon County has a true 4-H science Tech Wizard teen leader in Blake Freye.
Published on December 8, 2017

Mason County has a true 4-H Tech Wizard science teen leader in Ethan Funke.
Published on June 29, 2017

A new Michigan 4-H event will provide youth ages 9 to 19 with an opportunity to demonstrate and grow their passion for science through a variety of science-related contests and challenges.