Where's Sparty?
Want to play along?
Want to have some fun? WE do!
Alumni and friends at the Michigan State University College of Agriculture and Natural Resources want your help with a Where's Sparty? Project.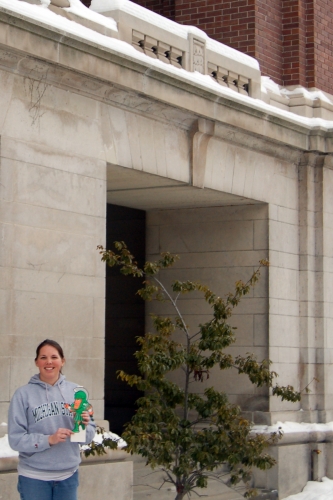 Alumni and friends will post photos of themselves with Sparty on the CANR Facebook page. Your participation gives you a chance to win your choice of a MSU Dairy Store ice cream flavor.
To Participate:
To receive your 11" Sparty cut-out, contact Kathryn Reed at kreed@msu.edu
Take your Sparty cut-out to an interesting location and snap a photo.
Upload the photo, include a description of where you took Sparty, your name, connection to the College (graduation date, major, faculty member, friend, etc.) to the CANR facebook page at www.facebook.com/MSUcanr. (While you're on the page 'like us'.)
Mail Sparty to a friend with a note asking him or her to participate in the Where's Sparty? Project.
Once a quarter, a submitted picture will be chosen as a winner. The person who submitted the winning photo will receive his or her choice of a half gallon of MSU Dairy Store ice cream shipped anywhere in the continental United States.
If your picture is chosen as a winner it will be reposted as the Picture of the Quarter, with a notice of which flavor of ice cream was sent to you.
If you Tweet please use #wheressparty, as well as a link to the picture.