Development of Profitable Michigan-Based Meat and Livestock Value Chains Supplying Local and Regional
Co-Principal Investigators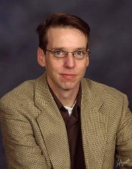 Director, Center for Economic Analysis / Assistant Professor, Agricultural, Food, and Resource Economics
Non-AFRE Co-Principle Investigators: Richard Pirog (Project Director), Judith Barry, Jason Rowntree, Craig Harris, Sarah Wells, Richard Ehrhardt (Implemented by Dept of Community Sustainability)
Overview
This is a USDA – National Institute of Food and Agriculture funded grant, implemented by the MSU Department of Community Sustainability, with collaboration from faculty in the Department of Agriculture, Food and Resource Economics at MSU.
Researchers on staff and affiliated with the Michigan State University (MSU) Center for Regional Food Systems (CRFS) have been awarded this grant. The grants, made through NIFA's Agriculture and Food Research Initiative, will support much-needed research on local and regional food systems in Michigan. This is a statewide project wherein leaders will manage the development of a public-private workgroup model to increase the viability of small and midsized livestock producers in Michigan who want to supply local and regional markets with high-quality meat products.
The project was developed by CRFS's Livestock Work Group, which is composed of MSU faculty, staff and Extension educators. CRFS Livestock Work Group members will examine constraints to small and midsized farms through coordinated research projects, with the goal of increasing the volume of and profitability in local and regional meat sales.
The project will also build the capacity of a public-private work group model to collectively address value chain challenges unique to these producers and processors.
Implementation April 2014 – April 2018.
Information Links