MSU Dairy Farmer of the Year
The MSU Department of Animal Science has been recognizing outstanding Michigan dairy farmers since 1958, and the MSU Dairy Farmer of the Year Award is the highest honor bestowed by the department. The Department selects a person or persons (dairy farmer) who has exhibited outstanding (1) management of their dairy farm business and (2) leadership in the Michigan dairy industry from a pool of nominees.
2018 Dairy Farmer of the Year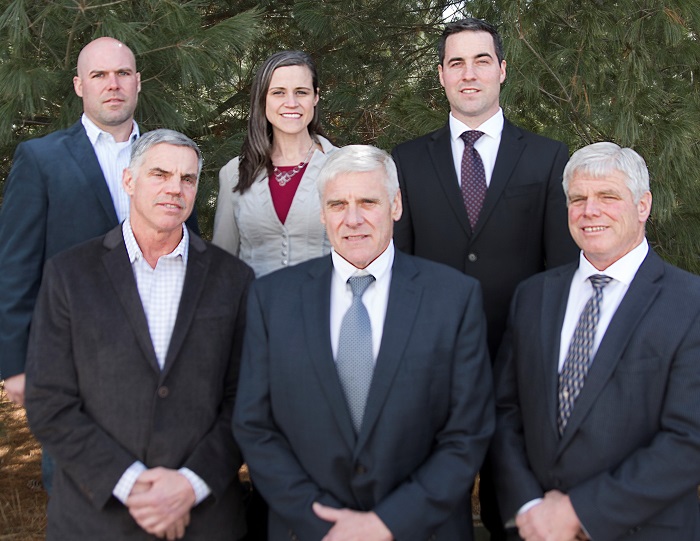 Oesch Family (SwissLane Farms, Alto, Michigan): Back row L-R Tom Jr., Annie Oesch Link, Matt. Front row L-R. Jeff, Fred, Tom.
The 2018 recipients of the Dairy Farmer of the Year Award presented by the Michigan State University Department of Animal Science are Fred, Jeff, Tom, Tom Jr. and Matt Oesch, and Annie Oesch Link, who own and manage SwissLane Farms in Kent County, Alto, Michigan. SwissLane is a fourth generation operation established in 1915 by Fredrick Oesch. Fred, Tom, and Jeff, the senior partners, formed a partnership in 1983. They have a succession plan to ensure a successful transition to the next generation that includes Fred's daughter, Annie, and Tom's sons, Tom Jr. and Matt. SwissLane currently includes 5,000 acres of corn, soybeans, hay, wheat and cover crops with 2,200 milking Holsteins, 1,900 replacements and 90 Angus-cross beef cattle and employs a team of 52 employees. The DHIA rolling herd averages are 28,118 lbs. of milk, 1,004 lbs. of 3.6% fat and 863 lbs. of 3.1% protein with an average somatic cell count of 130,000. In 2011, they added 8 robots that milk 500 cows. Their core business values are: God Honoring Conduct, Focus on the Cows, Light-years Ahead, Turning A Nickel into A Dime, and Make Hay While the Sun Shines.
Fred is VP of cropping and the visionary behind the early adoption of new technologies. Jeff is VP of operations, a tireless workhorse that spurs the team on to become productive people. Tom is maintenance manager, who makes things work, overseeing the installation, repair and upkeep of the farm's machines, buildings and other structures. Annie is director of human resources and public relations, working to enhance communication and team member engagement and improve public trust in modern dairy farming. Tom Jr. is VP of dairy operations, supervising herd managers. He works to track and meet key performance indicators and manage relationships with herd consultants. Matt is the CEO, responsible for providing strategic leadership for the farm, working with others to establish long-range business goals, strategies, plans and policies.
To promote sustainability, SwissLane strives to improve production, profitability, and environmental stewardship, reduce costs, and enhance community relationships through education and service. The farm was first MAEAP-verified in 2007 and animal-welfare verified by Validus in 2017. Located 23 miles from Grand Rapids, SwissLane's Dairy Discovery farm tours have educated over 35,000 children and adults about modern dairy farms since 2006. The farm hosts an annual "neighbor night" resulting in local families who better understand what is happening on the farm. In the fall of 2016, they hosted, "Water on the Farm", an event in collaboration with the Michigan Department of Environmental Quality and the Cold Water Watershed Council. In 2015, SwissLane received a USDA Rural Energy for America Program grant and was part of the MSU energy pilot program. They reduced energy costs by 17% per cow by making a number of changes. In May 2017, the farm partnered with Trans Ova Genetics to construct and operate an on-farm in vitro fertilization laboratory that provides services to other producers. The farm was recognized with the Excellence in Dairy Promotion Award in 2014, the Michigan Centennial Farm Certification in 2015, as a World Dairy Expo Virtual Farm Tour in 2016, and with the U.S. Outstanding Dairy Farm Sustainability Award in 2017.
The Oeschs' serve their community in a number of capacities. Fred served on the Kent County Farm Services Agency Board, serves on the Dairy Farmers of America Mideast Council, Caledonia Farmers Elevator Board, and Alto Apostolic Christian Church Stewardship Committee. Tom is an Alto Apostolic Christian Church Trustee. Annie serves on the Kent County Youth Fair Campaign Cabinet, Flat River Outreach Ministries Board, as Student Ministries Life Group Leader, and Alto Livestock 4-H Club Leader. Tom Jr. is an Impact Church Life Group Leader. Matt chairs the Alto Apostolic Christian Church Board and was on the MSU Extension Dairy Advisory Team.
SwissLane Farms is well respected and they lead by example. It is with great pleasure that the MSU Department of Animal Science recognizes the members of SwissLane Farms as the 2018 Dairy Farmers of the Year.
Past Recipients
2017 - Jim and Jack Winkel
2016 - Hank Choate
2015 - Mike Rasmussen
2014 - Geert and Gertie van den Goor
2013 - Bruce and Jennifer Lewis
2012 - James Reid
2011 - The Crandalls - Larry, Gloria, Brad, Monica, Mark and Sara
2010 - Earl and Diane Horning
2009 - Terry and Jean Nugent
2008 - Tom and Deanna Stamp, Linwood and Elizabeth Dale
2007 - Harold Cnossen
2006 - Ken & Larry Nobis
1999 - Jack Laurie
1998 - Larry Haywood
1997 - Wayne Haverdink
1996 - Harold and Lillian Gremel
1995 - Theron VanRee
1994 - J & L Farm - Doug Chapin & Lyle Ball
1993 - Harold, Wayne & Randy Wood
1992 - Ken Gasper
1991 - Remus Riggs
1990 - Roger Wolf
1989 - Carlos & Doug Long
1988 - Dick Gilna
1987 - Jim Fish
1986 - Elwood Kirkpatrick
1985 - Jerry Good
1984 - Jerry Surbrook
1983 - Bill Oswalt
1992 - Frank Lipinski
1981 - John Kronmeyer
1980 - Merle, Duane & Velmar Green
1979 - Paul Piepkow
1978 - Keith Brown
1977 - Fred Halbert
1976 - Wes Myllya
1975 - Walt Frahm
1974 - Eugene Erskine
1973 - Henry Gleason
1972 - Frank Merriman
1971 - Jack Dendel
1970 - Harold Blaylock
1969 - Charles Davis
1868 - Charles Donaldson
1967 - Harold Heisner
1966 - Frank Heim
1965 - Glenn Lake
1964 - Cyril Spike
1963 - Elton Smith
1962 - Ed Wright
1961 - F.W. Rules
1960 - D.F. Foster
1959 - Burton Knapp
1958 - Robin Carr