Student Awards
2012 MSU Collegiate Dairy Products Evaluation Teams

Michigan State University trained two teams to participate in the Regional and National Collegiate Dairy Products Evaluation Contests. Training in tandem with our MSU team were Aimee Wilson, Sarah Hobson, and Ruth Surgenor from Loughry College in Cookstown, Northern Ireland. At the Regional Contest on October , the MSU team of Haejun Seo, Cory Carson and Lisa Cezat placed 2nd in Milk thanks to strong judging by Haejun Seo (T-3rd) and Cory Carson (6th) and 7th of 11 teams in All-Products. The Loughry team was highlighted by Ruth Surgenor's 3rd place finish in Milk with the team placing 9th. The students were able to participate in a tour of the pilot plants and research and development laboratories at the Kraft Technical Center in Glenview, IL, where the contest was held.

On November 3rd, sixteen teams showed up for the Collegiate Dairy Products Evaluation Contest in Springfield, MO. The contest was hosted by Dairy Concepts. Team MSU finished 5th in the Butter category and 12th in All-Products, while Team Loughry placed a respectable 8th place in All-Products. Once again, Ruth Surgenor received a 3rd place award, however, this one was in Milk and earned her a $50 check. The real highlight of the Contest was the 1st place team award for Ruth, Sarah and Aimee in the Butter category. Butter is the prestige category since it was the first product judged when the contest started ninety-one years ago. The traveling Butter Trophy will travel to Northern Ireland for a six month stay before returning to MSU before next year's contest.

If anyone is interested in seeing what goes on at the Contest, more pictures may be viewed at the following link: http://share.shutterfly.com/share/received/welcome.sfly?fid=ca02a7a8252acd24&sid=2AZuGLFy4bM3KQ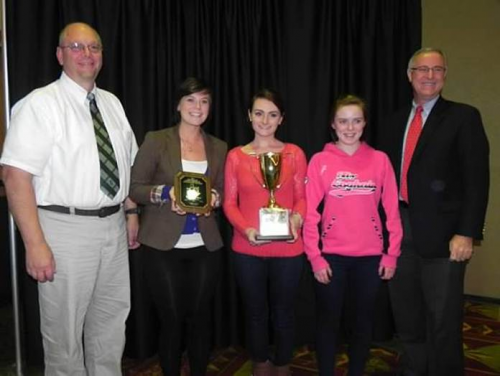 Butter Champions 2012 (L to R): John Partridge, Coach; Ruth Surgenor, Sarah Hobson, Aimee Wilson (Loughry College Team); David Carpenter, VP CHR HANSEN; Missing: Josh Hall, Asst. Coach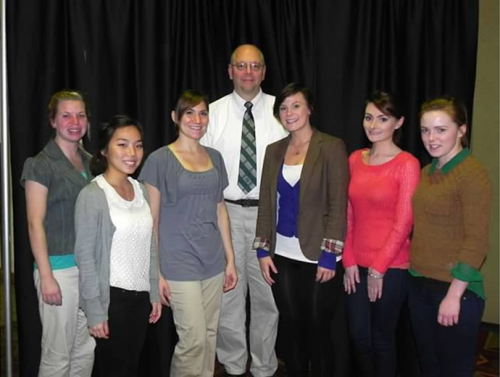 (L to R) MSU Team: Chelsea Gray, Haejun Seo, and Lisa Cezat; John Partridge, Coach; Loughry College Team: Ruth Surgenor, Sarah Hobson, and Aimee Wilson; Missing Josh Hall, Asst. Coach
MSU Meat Judging Team
The MSU Meat Judging Team finished their season at the International Intercollegiate Meat Evaluation Contest in Dakota City, Nebraska on November 25. Team members included Lane Carpenter (Charlotte, MI), Julie Feldpausch (Hastings, MI), Audrey Ing (Milan, MI), Kelsey Steketee (Caledonia, MI), and alternates were Emily Mitchell (Hudsonville, MI), Molly O'Brien (Flushing, MI), Patrick Owens (Midland, MI), and Andrew Weaver (Midland, MI).
Individually, Kelsey Steketee was 1st in Pork Judging, tied for 5th in Specifications, 7th in Reasons, and ranked 9th Overall. Audrey Ing tied for 6th in Placings and Lane Carpenter tied for 10th in Beef Grading. In the Alternate division, Molly O'Brien was 7th Overall. In the team competition MSU ranked 2nd in Lamb Judging, 4th in Pork Judging, 4th in Placings, and 6th in Beef Grading. Overall, the team ranked 4th out of 16 teams, which is the most successful a MSU Meat Judging team has been since 1985.
Our success would not have been possible without the support from the MSU meat laboratory management, Jennifer Dominguez and Ryan Varner. Also, financial support from the Michigan Meat Association, Michigan Pork Producers Association, Michigan Cattleman's Association, Michigan Sheep Breeders Association, MSU Block & Bridle Club, Meijer, Department of Food Science and Human Nutrition, and Department of Animal Science made it possible for us to travel to practices and competitions. We also appreciate the many meat processors who have allowed us to come in to practice, Bellingar Packing, Byron Center Meats, Little Town Jerky Company, McNees Meats, Fillmore Beef, Bernthal Packing, JBS Packerland - Plainwell, Wolverine Packing, Tyson Fresh Meats in Joslin, IL, as well as Cargill Meat Solutions in both Amarillo, Texas and Schuyler, Nebraska.
MSU Livestock Judging Team
The Livestock Judging team was 6th high team overall out of 27 teams at the American Royal. The team was 3rd in cattle, 6th in sheep, 8th in reasons. Katie Cook was 7th in cattle and Sarah Kennedy was 6th in sheep, 11th in cattle, 14th in reasons, and 12th overall. This is the highest ranking MSU has had at a National contest in 6 years. We were the highest ranking school east of the Mississippi river and the only team in the top 10 that judged all 4 year in house kids from the same state.
MSU Horse Judging Team
Congratulation is in order for the MSU Horse Judging team on their strong showings at their 2 annual competitions.
At the All-American Quarter Horse Congress in Columbus, OH the team was 9th Overall out of 22 Senior Teams. They were 10th in halter, 8th in performance and 10th in reasons. Additionally, Kerri Rozeboom was 6th high individual in performance.
At the US Arabian/Half-Arabian Nationals in Tulsa, OK the team finished out their season with an impressive 2nd place finish out of 10 Senior teams. The team was 2nd in Halter, 2nd in Performance, and 2nd Reasons. There were many individual placings as well. In the overall category, Theresa Maine was 4th high individual, Michelle Pineau was 8th high individual, Kerri Rozeboom was 9th high individual, and Mallory Burcz was 10th high individual.
2012 Team members were: Mallory Burcz, Theresa Maine, KC Main, Kerri Rozeboom, Taryn Schairer, Michelle Pineau, Kate Koroleski, JC Schweda, and Danni Dombrowski.
MSU Hunt Seat Equestrian Team
On October 13th, the MSU Hunt Seat team were stars at their meet! The meet was hosted by Western Michigan University. The team was High Point Team overall team by an impressive 13 points! Additionally, Brittany Hess won High Point Rider overall. Congratulations!
The MSU Hunt Seat Equestrian team competed over the weekend and once again took home the title of High Point Team! MSUET rider, Aleena Bobich, was crowned Reserve High Point Rider. Congrats to all!
Top honors for the Michigan 4-H Dairy Judging Team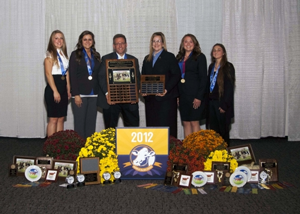 The Michigan 4-H Dairy Judging Team coached by Dr. Joe Domecq, MSU Department of Animal Science and Ms. Sarah Black, 4-H volunteer, took top honors at the National 4-H Dairy Judging Contest held in Madison, WI during the World Dairy Expo. The team took first place in both the dairy judging and the oral reasons divisions. Team members included MSU Students Megan Bush, Hayleigh Geurink and Savannah Katulski as well as Alma College student Megan Filhart.
"I can't say enough about the level of commitment and dedication the members of this team made in preparation for the national contest," Domecq said. "In addition, the program is fortunate to have a large number of volunteers and judging team alumni who are willing to volunteer numerous hours to help train and mentor the youth over the course of the practice season. The entire experience is about more than practicing for a contest – it's about continuing to build the dairy judging program and helping these young people develop the skills necessary to succeed in life."
MSU Judging Team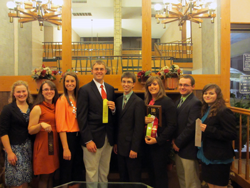 In early October, the team traveled to Wyalusing, PA and competed in the Eastern National. The team placed 6th in Beef Grading 8th overall. Kelsey Steketee was 5th in Placings and Julie Feldpausch tied for 7th in placings. Audrey Ing in was 9th in Specifications. In the Alternate division, Andrew Weaver was 5th and Emily Mitchell was 9th overall.
The MSU Meat Judging Team recently traveled to Omaha Nebraska for the American Royal Intercollegiate Meat Judging Competition. Along the way, we practiced at Meat Plant in Joslin, IL and Schuyler, NE. We also had the opportunity to practice in the Meat Laboratory at University of Nebraska – Lincoln. On Sunday, the contest started at 6am in Nebraska Beef where 93 students from 15 different schools were represented in the Senior division. Michigan State University was recognized with 2nd in placings, 4th in pork judging, and 7th overall. Individually, team member Audrey Ing was recognized for 2nd in placings, 3rd in pork judging, and 7th overall. In the Alternates division, Lane Carpenter received 5th, Emily Mitchell was 9th, and Molly O'Brien was 10th. The team is excited to travel to Texas for the High Plains contest and as always, greatly appreciates the support of our stakeholders and MSU.
We have received excellent financial support from the Michigan Meat Association, Michigan Pork Producers Association, Michigan Cattleman's Association, Michigan Sheep Breeders Association, MSU Block & Bridle Club, Meijer, Department of Food Science and Human Nutrition, and Department of Animal Science. We also appreciate the many meat processors who have allowed us to come in to practice, Bellingar Packing, Byron Center Meats, Little Town Jerky Company, McNees Meats, Fillmore Beef, Bernthal Packing JBS Packerland - Plainwell, Wolverine Packing, Tyson Fresh Meats in Joslin, IL and Cargill Meat Solutions in Schuyler, Nebraska.
Thank you all for your great support!
Sarah Wells
Student receives 1st Place at Annual Meetings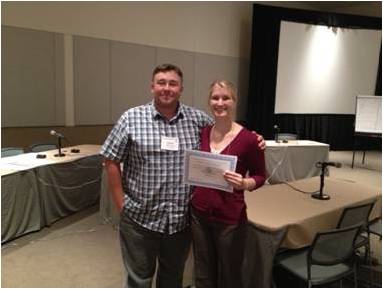 Sarah Schmidt received 1st Place in the ADSA-SAD Undergraduate Original Research Division. Her abstract was: Schmidt, S., C. L. Preseault, J. E. Rico, M. S. Allen, and A. L. Lock. 2012.
Incorporation of palmitic and stearic acids into plasma lipid fractions of lactating dairy cows. American Dairy Science Association Annual Meeting (submitted).
Congratulations Sarah, Great Job!!!
MSU Arabian Breeding Program
In the most widely circulated Arabian Horse Magazine "The Arabian Horse World", the Michigan State University Arabian breeding program was recognized this year as the 2nd leading breeder of top ten and national champion Sport Horses and the 7th leading breeder of total top ten and nation champions over both shows. This is the first time that MSU has been recognized in this manner. The best part of this recognition is that itis mostly a result of MSU students competing on MSU horses while enrolled in the summer training and show class (ANS 146) taught by Paula Hitzler.
Students Do Well at Tri State Meeting

MSU Animal Science had 2 graduate and 3 undergraduate students compete in competitions; Kelsey DeLand, Sarah Schmidt, and Matt Kuhn in the undergrad, and Jackie Ploetz and Jessie Shire in the graduate.

Kelsey DeLand won the undergrad competition (3 students from each Uni competing). Her presentation was research that she has done in Dr. Adam Lock's lab with Dave Beede which she is presenting at ADSA this summer. Matt came third with a lit review presentation. There were 12 people in the grad competition. Jackie Ploetz (PhD student in Dr. Lock's) won this competition.
MSU takes 3rd place in the North American Intercollegiate Dairy Challenge
On March 28 - April1, 2012, Animal Science seniors Eric Sneller, Carrie Szybisty, Arianna Walters and Torey Wood (double major in biosystems engineering) participated in the North American Intercollegiate Dairy Challenge (NAIDC) in Roanoke, Virginia.The team took 3rd in a close placing in their division, with 6 points out of100 separating the top 3 teams. Ashleigh Covert, Animal Science senior,participated with students from University of Florida and Penn State on an aggregate team that placed 5th in their division. In addition, our students received many positive comments on their teamwork and professionalism.
During the trip to Virginia, the students visited the campus of Virginia Tech and its dairy farm. They also toured the heifer-raising operation owned by Dr. Don Gardner, a founding member of the Dairy Calf and Heifer Association. At the event, Ashleigh was informed she was selected as a summer Farm Management Intern at the Miner Institute in New York.
Congratulations to our students on their achievements! Michigan State will partner with Ohio State and Purdue to co-host the NAIDC in Fort Wayne in 2013 and 2014.
MSU Meat Judging Team Travels to the Southeastern Intercollegiate Meat Judging Contest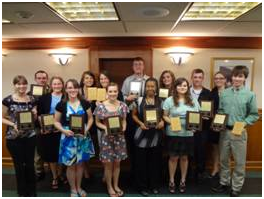 On April 13-14, 2012 the MSU Meat Judging Team sent 13 members to the Southeastern Intercollegiate Livestock Contest where the MSU White Team took 4thoverall and the MSU Green Team took 8th of the 15 teams competing.There were 13 team members in attendance from MSU. The White team, which consisted of Kelsey Steketee, Andrew Weaver, Julie Feldpausch, and Patrick Owens also placed 1st in lamb judging, 3rd in beef judging, 5th in pork judging, 3rd in specifications, 2ndin placings, and 4th in reasons. The MSU Green team which consisted of Audrey Ing, Katie Sollman, Molly O'Brien, and Emily Mitchell placed 5thin beef grading and 3rd in reasons. The MSU Alternate team ranked 4thin Lamb judging, although they were not eligible for team awards. However,alternate team members Lane Carpernter, Amanda Schultz, Shane Adams, Diondra Voishich, and Lachelle Devoe were eligible for team awards and represented MSU very well!
In the individual competition, MSU took 2nd (Weaver), 5th (Ing), and 10th (Steketee) place overall in the competition. In beef judging teammates tied for 5th (O'Brien) and 6th (Feldpausch). In lamb judgingMSU took 1st (Feldpausch), 2nd (tied for 1st - Ing), 4th (Owens), 5th (O'Brien), and tied with O'Brien but ranking 6th (Schultz). Weaver was tied for first but ranked 2nd in specifications. In placings,Carpenter took 1st with 493out of 500 points. And lastly, in reasons team members Feldpausch and O'Brien tied taking 1st and 2nd in reasons overall with Amanda Schultz in 7th.
During this trip we also had the opportunity to visit the Ohio State meat lab, the University of Kentucky meat lab and took the time between the contest and the banquet to briefly visit horse races and see another side of Animal Science.Thank you to everyone in the department for your great support!
MSU Equestrian Hunt Seat Team
The Michigan State Equestrian Hunt Seat Team traveled to Morehead, Kentucky the first weekend of April for Hunt Seat Zones. We had two riders qualify to show.Junior, Erin Turner, rode in Intermediate Fences, and sophomore, Brittany Hess,rode in Intermediate on the flat. Erin Turner was reserve champion in her fences class and qualified for Nationals in North Carolina, and Brittany took 9th place in her flat class. This is the 4th year in a row that the Hunt Team has had a rider qualify for Nationals. Congratulations girls!
MSU ANS Alumni News - Iowa State's Sterle Named Second Recipient of Harman Professorship
Jodi Sterle has been named the second recipient of the Eldred and Donna Harman Professorship for Excellence in Teaching and Learning in Iowa State University's Department of Animal Science.
The endowed position was established by Eldred and Donna Harman of Waterloo in 2010. Eldred Harman is a 1947 Iowa State University animal science graduate and a retired vice president of American Federal Savings.
Sterle is an associate professor of animal science and joined the faculty in 2011. She had been an associate professor and extension swine specialist at Texas A&M University. She earned a bachelor's degree in animal science from Michigan State University, and earned her master's and doctorate degrees in swine reproductive management from the University of Missouri.
Sterle will be taking over the responsibilities as the department's undergraduate program coordinator from Doug Kenealy, a university professor of animal science. Kenealy is retiring this spring after 37 years on the faculty. He was the first recipient of the Eldred and Donna Harman Professorship for Excellence in Teaching and Learning.
Sterle, who will be taking over Kenealy's advising and curriculum duties,plans to continue to enhance the teaching program that put Iowa State at the top of the list for students, employers and industry representatives.
Sterle teaches introductory animal science classes and this fall will be introducing a new course she developed. The course, The Art and Heritage of Livestock, reviews the role of animals in the development of culture throughout the world.
MSU Livestock Judging Team
The MSU Livestock judging team competed at the Houston Livestock Show and Rodeo Judging Contest in Houston TX. The team was 12th high team overall. The team placed 7th in the Reasons Division, 8th in the Swine Division, 10th in the Sheep division. The following team members placed in the top 5 of the respective divisions.
Beth Oliver was 2nd high individual in the Swine Division
Katie Cook was 2nd high individual in the Reasons Division
These young ladies being in the top 2 of these divisions at a major national contest in a very big accomplishment.
The team members are: Hannah Bollinger, Katie Cook, Taylor Harrison, Ali Harwell,Sarah Kennedy, Beth Oliver, Beth Wernette, Jonathon Stelter.
Kudos
A former student Ethan Bosserd, was featured in a cover story. One of his quotes was directed to the experience he had on the livestock judging team, "My degree along with my experience on the MSU Livestock Judging Team, really opened the door for this job. My three coaches, Sankey, Culham and Snedegar have been great influential people and amazing teachers". The article includes other students with experiences on our judging teams: Tera Koebel (Dairy Team) and Sarah Campbell (Livestock Team). Also featured is information pulled from the data collected by Gretchen Hill in ANS 110 about the changing demographics of our Animal Science students. Very nice exposure of our program.
MSU Purebred Beef Center Travels To National Western Stock Show
The MSU Purebred Beef Cow/calf Center had another very successful trip to the National Western Stock Show in Denver, Colorado. Cody Sankey, manager; Ken Geuns, faculty coordinator; and four students represented the center at the event. The National Western Stock Show is the premier cattle event and competition in the world and has visitors from around the globe.
The students included: Scott Hartsell, Agribusiness Management senior from Cassopolis; Jed Kruger, Animal Science junior from Ionia; Charlie Cramer, Crop & Soil Science senior from Stanwood; and T.J. Murphy, Ag Industries junior from Marne. They put in several very long days preparing the cattle for the shows and sales and represented the center extremely well. It is also important to mention the outstanding effort of the students that stayed at home to do chores, calve cows, and make sure that everything was going well at the Beef Barn.
MSU consigned four bulls in the Angus and Hereford breed association sponsored sales. These cattle sold to breeders representing programs in Minnesota, Kansas,Nebraska, and Michigan for a total of $15,100.00 to average $3775.00.
In addition, MSU exhibited six females in the Angus and Hereford shows. Highlights in the Angus show include, MSU Elba 115, a January 2011 female placing third in class. This female was purchased fromMSU in the Angus Connection Sale last fall for $10,000.00 by Sydney Schnoor of Chowchilla, California. Highlights in the Hereford show include, MSU Rachael 16Y, a February 2011female being selected as a class winner. This female was purchased from MSU in the Fall Fest sale for $8000.00 by Danielle Starr of Manawa,Wisconsin.
It is also important to note that the progeny of MSU Keepsake 14S, a female that was produced byMSU in 2006, produced two division champion bulls in the Hereford show. 14S was purchased by Larry Crane of Mitchell, S. Dakota in the 2006Fall Fest sale. This female went on to be named the 2008 National Western Reserve Champion Polled Hereford Female. One son, LCX Unleashed Keepsake1110 ET, a March 2011 bull, was named Polled Hereford Spring Bull Calf Champion. Another son, LCX He's A Truck 104 ET, a February 2010 bull, was named Horned Hereford Yearling Bull Champion.
Most importantly, it is the people that matter. The student employees of the MSU Purebred Beef Cattle Center are to be highly commended for their commitment and work ethic. Many of them gave up a significant portion of their break between the two semesters and the holidays to insure that everything was ready for this show. We are extremely proud of them.
2012National Western
MSU Livestock Judging Team
The MSU 2012 Livestock Judging Team made a successful trip to Denver, Colorado,finishing 14th out of 28 teams overall, 8th in beef, and10th in swine. Hannah Bollinger of Coopersville was 11th in swine, 21st in market steers, 27th in beef, and 30th in beef reasons. Sarah Kennedy of Saranac, was 13th in goats/sheep, and 24th in swine. Beth Oliver of Bryron, was 17th in beef, and 24th in beef reasons. Jonathon Shelter of Bridgeman,was 25th in beef. Taylor Harrison of Coldwater was also a team member.
The team also competed in National Western Carload Contest where they finished 6thout of 28 teams. Beth Wernette of Remus was the 25th Individual in this event. The other team members were Allison Harwell of Coldwater, Katie Cook, of Goodrich, Sarah Kennedy, and Jonathon Shelter.
The team practiced at Kansas State University and Colorado State University, as well as several other stops on their way to Denver. Also on the trip was Chris Strong of Portland, and Ethan Bossard of Marshall, from last years team and Coach Al Snedegar. Cody Sankey and Al Culham are also coaches of the team. They are the only Major college team without experienced Junior College transfers and this was the first official contest for them.
Horsemen's Weekend
The MSU Horsemen's Association completed a very successful Horsemen's Weekend, January 13-15 at the MSU Pavilion. This weekend attracted roughly 500spectators and brought the various member clubs, including Dressage, Horse Judging Team, Polo, Rodeo, and Equestrian Team, together as Horsemen's members to become better acquainted and to accomplish something as a group. The event also served as an excellent recruiting effort. On Sunday, the MSU Stock Seat Equestrian Team overtook GVSU to win the Regional Championship by one point! A special thank you to all AND Department faculty who supported the event by conducting clinics or providing horses, including Dr. Shelle, Paula Hitzler, Karen Waite, Camie Heleski and Taylor Fabus.
Animal Science AQ Team
The winner of the 2012 MSU Animal Science AQ is Team A+ Producers! The members of this team are Caroline Ylioja, Julie Feldpausch, Jenna Falor and Rebecca Dow. It was a tough competition this year, with all teams performing well. The A+ Producers team will be representing MSU at the2012 Midwest Regional AQ in Iowa, March 18-19.
A huge Thank You! goes to the section leaders of the events, Dr. Joe Domecq, Dr.Brian Nielsen and Dr. Roy Fogwell, the Block and Bridle AQ Chair Julie Feldpausch as well as all the faculty, staff and graduate students who helped make this very busy event a success. Without the hard work and dedication of our faculty,staff, graduate students and even their families we would not be able to put on this event for our undergraduate students.
Thank you also to the teams that participated and I hope that you enjoyed this friendly competition with your fellow students. Any ideas that you may have for improving future events are welcome!
Good News from the 92nd Block& Bridle National Convention!
Fifteen members of the Michigan State University Block & Bridle (B&B) club along with one advisor traveled down to Murfreesboro, TN to attend the National Convention, held in conjunction with the National Cattlemen's Beef Association (NCBA) Convention in Nashville. The convention took place from January 31 until February 3. Some of the highlights included tours of Tennessee agriculture(with some pretty good weather!), great speakers at Cattlemen's College, and country music at the Grand Ole Opry. At the closing banquet, the MSU B&B club was recognized publicly by the host school, Middle Tennessee State University, for their efforts in helping them prepare for and fund this convention. Additionally, Joel Sparks, last year's club president and current veterinary student at Iowa State University, won 2nd place for the outstanding senior award. Dr. Michael Orth, one of the club's three advisors,was elected to an eight-year term to serve as a National Block & Bridle officer. He will serve a four-year term as Secretary/Treasurer, two-year term as Vice President, and two-year term as President. He is only the second MSU Animal Science faculty member (Dave Hawkins is the other) to serve in this capacity in the club's history.
MSU Livestock Judging Team
The MSU Livestock judging team competed at the Dixie National Beef Cattle Contest in Jackson, MS. The team was 5th high team overall. The team placed 5th in the British Breeds Division, 5th in the Brahman Breeds Division, 4th in the Market Cattle division, and5th in oral reasons. The following team members placed in the top 5 of the respective divisions.
Beth Oliver was 2nd high individual in the English Division
Hannah Bollinger was 4th high individual in the English Division
Sarah Kennedy was 5th high individual in the Continental Division
Beth Wernette was 5th high individual in the Brahman Division
The team members are: Hannah Bollinger, Katie Cook, Taylor Harrison, Ali Harwell,Sarah Kennedy, Beth Oliver, Beth Wernette, Jonathon Stelter.
2012 ASAS Young Scholars
Congratulations to Dr. Rodrigo Manjarin (mentored by Nathalie Trottier) and Dr. Igseo Choi (mentored by Cathy Ernst) who were named 2012 ASAS Young Scholars. They will be recognized at the Midwest Annual Meeting in Des Moines, March 19-21, 2012.