Draft Horse History at MSU
The Draft Horse Program at Michigan State was one of the finest in its day. From 1910 to 1930 draft horses competed in 20 state fairs and 8 international competitions winning 211 firsts and 155 championships. This is a phenomenal amount of success and illustrates just how exceptional the breeding program was. Following 1930 the draft horses were still shown, but as tractors slowly became more available the draft horses slowly faded away. Michigan State successfully breed Clydesdales, Percherons, and Belgians. Click here for additional historic pictures

Clydesdales:
The Clydesdales were the first breed on the farm and the first breed to leave. The first Clydesdales were purchased in July, 1907. The Clydes were bred and shown successfully, however Michigan farmers were uninterested in the breed and the remainder of the herd was sold following the 1923 International. Some of the known mares are: Margaret, Queen Thyra, Langwater Fair Maid, and Osceola Duchess. Some of the known stallions are: McAlpine, Prince Fortune, Amaryllis, and Langwater Model.
Percherons:
Shortly after the arrival of the Clydesdales MSC purchased two pairs of Percheron mares. One of these mares, Arlene, formed the foundation for the Percheron breeding program. In May, 1908 Arlie a filly out of Arlene was the first purebred foal born on the MSC farm. Arlie remained on the farm and was used as a broodmare through the 1930's. Maplegrove Leila was another Percheron mare who made history by winning 23 championships three of which were at the same International. Another exceptional broodmare was Coreen whose get won substantial prize money at the state fairs and the International.
Coreen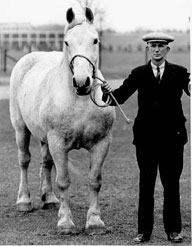 Daughters of Coreen with their foals
The most outstanding Percheron sire that MSC stood was Treviso. Although there were many others his performance as a stud was superior. The Percheron Society of America rankings for superior sire Treviso ranked fifth in 1928 and third in 1929. Sir Laet replaced Treviso as the main sire for MSC Percherons in 1929. Sir Laet was an exceptional sire and was bred to many Treviso daughters. Sir Laet was the popular Percheron sire owned by MSC. In 1929 he was grand champion at the Ohio and Michigan state fairs and at the International. Sir Laet remained at MSC for just over 10 yrs before he was sold.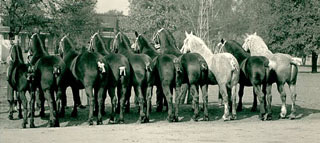 Belgians:
The Belgian breeding program was started much later and it wasn't until 1918 that the first Belgian mares foaled out on the farm. These mares were imported and became the foundation for Belgian breeding at MSC. These mares produced a number of grand and reserve grand champion horses. Another great mare was Pervenche who was purchased in 1922 and remained at MSC for four years. During her time at MSC she produced three fillies and won a substantial amount of money at shows. There were also a number of other mares including Manitta de Rubis and Naome de Rubis who won many honors for MSC. The first Belgian stallion was Jupiter who was acquired in 1921. Then in 1923 Jupiter was traded for Range Line Phoenix another Belgian stallion. Range Line Phoenix was successful sire. In 1927 Preston Wolfe was purchased as a yearling and went on to win a number of championships. He produced exceptional offspring and eventually replaced Range Line Phoenix as the main sire for MSC.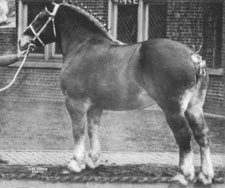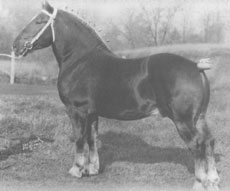 Prevenche Preston Wolfe
After WWII horses were quickly being replaced with tractors. There was no longer a need for them to plow and harvest. The last draft horse show a MSC owned horse competed in was the American Belgian Show in 1946. In that show, Ginger's Pervenche, a mare by Ginger and out of Pervenche, won championship honors. The draft horses remained at MSU until 1963; however those last 20 years were nowhere near as impressive as the first 30.
The Return of Draft Horses to Campus:
In 1963, the last draft horse left the MSU campus and it wasn't until 36 years later that one returned. In April of 1999, the Stewart family donated a team of Belgian geldings to the Horse Program. Dr. Russ Erickson accepted the responsibility of the draft horses. One of the geldings died from cancer shortly after his arrival so in order to find a replacement Russ journeyed to the Topeka, IN draft horse sale, but couldn't find a suitable replacement and ended up purchasing a team of Belgian geldings. These geldings, Coronel and Duke, became the cornerstone of the Draft horse Program at MSU. Coronel and Duke help teach ANS 141 Draft Horse Basics and ANS 490 Advanced Draft Horse Driving. In the spring of 2000 two pregnant Belgian mares were donated to MSU by Dan Creyts. Greta and Flora each produced a live filly. Those fillies, named MSU Millennium and MSU Memory, were ground broke and sold as yearlings in the fall of 2002. In the spring of 2002 MSU sponsored a Plow Day and it was the first time in over 40 years that draft horses had plowed on MSU ground. In the spring of 2004, the program sponsored another Plow Day and 18 teams of horses and mules came to plow. We are striving hard to ensure that the Draft Horse Program will continue for years to come.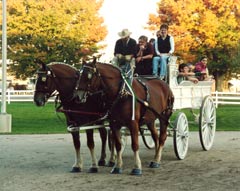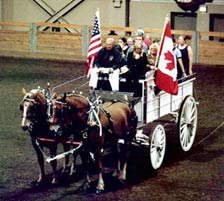 Coronel and Duke in the MAC harness at the Great Lakes International in October 2000.