Endowment
The Draft Horse Endowment Fund was established by Dr. Russ Erickson in 2000 to preserve the future of the program. The interest generated by the endowment provides 95% of the funding for the class and equipment. This money is used to repair harness parts, purchase new harness and general supplies, and repair vehicles. The endowment ensures the longevity of the program and increases the quality of the students' experience in the class. Your gift to the MSU Draft Horse Endowment Fund will help ensure the continuity and growth of the draft horse program at MSU. Your investment in these gentle giants will help maintain a link to our agricultural heritage as we educate the next generation of industry leaders.
Please consider making a donation to the Draft Horse Endowment Fund today.
To make a secure credit gift on-line, CLICK HERE.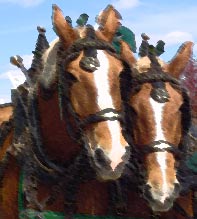 Gifts can also be mailed to:
Cara O'Connor
Michigan State University
2235 Anthony Hall
East Lansing, MI 48824
Phone: (517) 353-4866
Thank you for supporting the Draft Horse Endowment Fund!