Equipment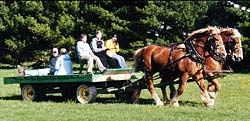 The class currently has a flatbed wagon with a bench seat that we use for driving teams.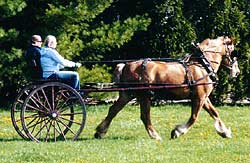 We have a maroon single cart that is used to introduce students to driving.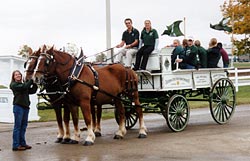 We have a show wagon on indefinite loan from California State Polytechnic University at Pomona. This wagon is over 100 years old and has been completely restored. It was formerly used by the W.K. Kellogg Arabian Horse Center.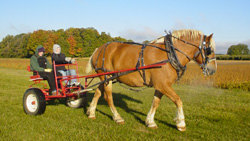 We have a forecart that has both single shafts or a tongue. We use this for pulling a hay wagon or a drag.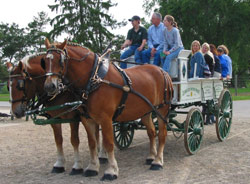 The horses also have a 100 yr old leather and brass show harness. This team harness was originally part of a larger set used by Pabst Brewing Company in the early 1900's. The harness was then purchased by Michigan Agricultural College (MAC) and the brass emblems applied to the bridle and hip drops.