Bug House
Come visit MSU's Bug House, where you can see, touch or even hold some real creepy crawlers!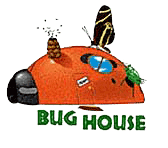 Did you know there are more kinds of beetles in Michigan than there are varieties of birds on Earth?
Did you know that a cricket's ears are on its knees and flies have taste buds on their feet?
How about that an ant can lift 50 times its own weight, the equivalent of a human lifting two small cars?
A visit to the Bug House will explain all these fascinating facts and more. In addition to viewing the amazing pinned displays, you'll have the opportunity to interact with a whole room of insects, including walking sticks and tarantulas! Don't forget to visit our Facebook page to see lots of great photos and keep up-to-date with events and information. You can also view our calendar to see upcoming events. Don't forget to print our flier.
The Bug House is open for tours made by appointment and for the hours of the events listed below. Due to staff and resource limitations, we are NOT open daily. Tours are offered with an appointment Monday through Friday and are designed for all ages in groups of 30 or fewer. There is a $50 fee for a one-hour tour of 30 or fewer participants. The MSU Bug House is located in rooms 146-147 of the Natural Science Building (click for map).
Department of Entomology Bug House
Natural Science Building
288 Farm Lane Room 147
East Lansing, MI 48824
Make your reservation today by calling the Entomology Business Office at 517-355-4662 or e-mail bughouse@msu.edu. View our open tour times.
What's new?
See what else is new with the Bug House by checking out the Bug House News page.
2017 Events
Summer Open House: Saturday, June 3 from 10 a.m.-5 p.m.
Summer Open House: Sunday, June 18 from 1-4 p.m.
Summer Open House: Saturday, July 15 from 1-4 p.m.
Summer Open House: Saturday, Aug. 12 from 1-4 p.m.
Fall Open House: Monday, Sept. 11 from 5:30-7:30 p.m.
Fall Open House: Monday, Oct. 9 from 5:30-7:30 p.m.
Halloween Open House: Sunday, Oct. 29 from 1-4 p.m.
Winter Open House: Monday, Nov. 13 from 5:30-7:30 p.m.
Holiday Open House: Saturday, Dec. 30 from 1-4 p.m.
View the rest of our upcoming events.
MSU students can volunteer
If you are an MSU Entomology undergraduate or graduate student, you can volunteer to help staff the Bug House by assisting with visitors and working with the insects. For more information and to volunteer, email Gary Parsons at parsonsg@msu.edu.