Climate Change in the Great Lakes Region and Beyond: A Symposium
Date: April 2, 2014
Location: Kellogg Center, Auditorium
A featured event of the 2014 MSU Science Festival!
April 2, 2014
1 - 4:30 p.m.
Kellogg Center, Auditorium
219 S Harrison Rd.
East Lansing, MI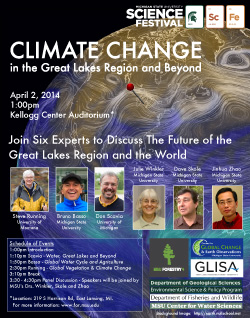 Climate change: a defining challenge of our era. Warming and changes in precipitation are occurring globally and in our Great Lakes Region. Join global and regional climate change experts for informative talks addressing new findings, impact on the Great Lakes, and what can be done.
Expert Panel includes:

Steve Running, Intergovernmental Panel on Climate Change and University of Montana

Steven W. Running received his Ph.D. in Forest Ecology from Colorado State University and has been with the University of Montana, Missoula since 1979, where he is a University Regents Professor of Ecology. His primary research interest is the development of global and regional ecosystem biogeochemical models integrating remote sensing with bioclimatology and terrestrial ecology. He is the Land Team Leader for the NASA Earth Observing System, Moderate Resolution Imaging Spectroradiometer, and is responsible for the EOS global terrestrial net primary production and evapotranspiration datasets. He has published more than 280 scientific articles and two books. He is a co-Lead Chapter Author for the 2014 U.S. National Climate Assessment. He currently Chairs the NASA Earth Science Subcommittee, is a member of the NASA Science Advisory Council, and the NOAA Climate Working Group. Dr. Running was a chapter Lead Author for the 4th Assessment of the Intergovernmental Panel on Climate Change which shared the Nobel Peace Prize in 2007. Dr. Running is an elected Fellow of the American Geophysical Union and is designated a Highly Cited Researcher by the Institute for Scientific Information. In the popular press, his essay in 2007, "The 5 Stages of Climate Grief" has been widely quoted.
For more information, visit http://www.ntsg.umt.edu/



Bruno Basso, Michigan State University, Department of Geological Sciences

Bruno Basso's research deals mainly with water, carbon, nitrogen cycling and modeling in agro-ecosystems, spatial analysis of crop yield using remote sensing, and climate change impact in agriculture. Basso's modeling research has focused on extending soil-crop-atmosphere models to spatial domains at the field scale, and in particular on developing, testing, and deploying SALUS, a next-generation process-based model that integrates crop productivity with water, carbon, and nutrient fluxes in a spatially explicit manner.
During his career, Dr. Basso has participated as PI and Co-PI in several projects. He is the author of more than 150 publications (Books written (2); chapters of books (6); technical refereed papers (47); Technical papers non refereed (98); invited lectures (24).
For more information, visit http://www.glg.msu.edu/people/basso.html

Don Scavia, University of Michigan, Great Lakes Integrated Sciences and Assessments
Don Scavia and his students combine numerical models, laboratory, field work, and assessments to improve the understanding of interactions between human activities on land and their impacts on coastal marine and freshwater ecosystems. His research and teaching support integrated assessments that bring together natural systems, social science, and environmental policy making. As Director of the Graham Institute and Special Counsel to the U-M President, Scavia leads efforts to engage the full multidisciplinary assets of the University of Michigan to support sustainable communities, ecosystems, and economies.
He served on the NRC Committee on Missouri River Sediment Management Issues, the EPA Science Advisory Board Panel on Great Lakes Restoration, and continues to serve on Advisory Boards for the National Wildlife Federation Great Lakes Program, North American Nitrogen Center, Annis Water Research Institute, and as Science Advisor to the Healing our Waters Great Lakes Coalition. He is on the Board of Directors of the Great Lakes Observing System and a Trustee of the Mpala (Kenya) Wildlife Conservancy Research Center. At UM, he also serves on the Executive and Advisory Committees for the Erb Institute for Global Sustainable Enterprise, Risk Science Center, Michigan Energy Institute, and the Matthaei Botanical Gardens and Nichols Arboretum.
He has been SNRE Associate Dean for Research, Director of the Michigan Sea Grant Program, Director of the Cooperative Institute for Limnology and Ecosystems Research, Associate Editor for Estuaries and Coasts; Associate Editor for Frontiers in Ecology and Environment, and has served on the Boards of Directors for the American Society of Limnology and Oceanography and the International Association for Great Lakes Research.
Prior to joining the Michigan faculty in 2004, Dr. Scavia was the Chief Scientist of NOAA's National Ocean Service, the Director of the National Centers for Coastal Ocean Science, and the Director of NOAA's Coastal Ocean Program. He holds Bachelors, Masters, and Doctorate degrees in Environmental Engineering from Rensselaer Polytechnic Institute and the University of Michigan, and has published over 120 articles in the primary literature and books, co-edited two books, and led development of dozens of interagency scientific assessments and program development plans.
For more information, visit http://graham.umich.edu/scavia/

Julie Winkler, Michigan State University, Department of Geography
Julie A. Winkler is a professor of geography at Michigan State University. She holds a B.S. degree from the University of North Dakota in geography and M.A. and Ph.D. degrees from the University of Minnesota in geography. She is interested in many aspects of geography and climatology including synoptic and applied climatology, regional climate change, and climate scenario development and evaluation. Current and past research topics include heavy precipitation, nocturnal thunderstorms, low-level wind maxima, airflow within midlatitude cyclones, wildland fire risk, and the potential impacts of climate change particularly for agriculture. Much of Winkler's research has focused on the Central Plains and Great Lakes region of the United States. She currently is the principal investigator of the CLIMARK project, which is using the international tart cherry industry as a prototype for the development of climate assessment strategies for international market systems, and is a member of the Great Lakes Integrated Sciences and Assessments (GLISA) Center. Winkler is the 2013-2014 President of the Association of American Geographers. She is a Fellow of the American Meteorological Society (AMS) and a recipient of the AMS Charles Franklin Brooks Award.
More information on Winkler's research interests and publications can be found at https://www.msu.edu/~winkler/.



Dave Skole, Michigan State University, Department of Forestry
David L. Skole is Professor of Forestry at Michigan State University. He has more than 25 years experience with research on land cover change, the global carbon cycle and climate change. He was instrumental in constructing the first numerical global terrestrial carbon model, and has been spearheading the integration of satellite based remote sensing into carbon and climate models. He was formally recognized for his climate change research as an official member of the United Nation's Intergovernmental Panel on Climate Change that shared the 2007 Nobel Peace Prize. He is now active in the emerging carbon financial markets and applications of his research to carbon sequestration and climate change mitigation and adaptation projects in developing countries. His platform program, Carbon2Markets uses climate adaptation and mitigation tools to enhance rural livelihoods through carbon payment schemes. He has been active in developing methods for carbon offsets under emissions trading program. He was a member of the Chicago Climate Exchange (CCX), and served on its Offsets and Forestry Committees. He was also Chair of a Technical Advisory Committee of the CCX on small holder agriculture procedures. His research is also supporting the monitoring and evaluation assessments by the Global Environmental Facility, the World Bank, and several Multi-lateral Development Banks. He has more than 100 peer-reviewed publications on land use change and forestry issues related to carbon emissions and sequestration, including several that have been most influential in the field, ranking in the upper 1% in terms of overall influence on the science. He has been a leading expert on global environmental monitoring, having been instrumental in developing several international programs related to land use, carbon and climate change. In recent years he has been a leading authority on measurement, reporting and verification for forest carbon projects and has developed and published several protocols for A/R and REDD projects. Dr. Skole is currently a Member of SilvaCarbon acivity of OSTP and US Government Advisory Group on Carbon Accounting and a Member of the USDA/USFS Forestry Working Group, Advisory Committee on Technical Guidelines for Quantifying Greenhouse Gas Sources and Sinks in the Forestry and Agriculture Sectors.
For more information, visit http://www.for.msu.edu/people/david_skole
Jinhua Zhao, Michigan State University, Department of Economics/Department of Agricultural, Food and Resource Economics
Jinhua Zhao is a professor of economics and director of the Environmental Science and Policy Program at Michigan State University. He conducts research in the broad area of environmental and resource economics, with special interests in global climate change, energy economics, technology adoption, dynamic decision making under uncertainty, and applied microeconomics in general. He has conducted research on climate change adaptation, international climate negotiations, emissions trading, soil carbon sequestration, renewable energies, and the long-run relationship between international trade and the environment. He has published in many of the leading economics journals such as International Economic Review, Journal of Economic Theory, and Journal of Public Economics. His interdisciplinary research projects have been funded by NSF, USDA and US EPA. He is a member of the Environmental Economics Advisory Committee of the US EPA's Science Advisory Board. He was a co-editor of the flagship environmental economics journal, Journal of Environmental Economics and Management (JEEM) and served on the editorial councils of JEEM and the Review of Development Economics, and is on the editorial committees of Annual Review of Resource Economics and Frontier of Economics in China.
For more information, visit http://www.econ.msu.edu/faculty/zhao/
Schedule of Events
1:00 p.m. Introduction
1:10 p.m. Scavia - Water, Great Lakes and Beyond
1:50 p.m. Basso - Global Water Cycle and Agriculture
2:30 p.m. Running - Global Vegetation & Climate Change
3:10 p.m. Break
3:30 p.m. Panel Discussion - Speakers will be joined by MSU's Drs. Winkler, Skole and Zhao