Packaging Basics
Date: May 11, 2015
Location: The School of Packaging Ternes Outreach Center
This hands-on workshop is designed for all levels of industry professionals that have a role in managing packaging and related operations within their organizations seeking a formal background in packaging concepts. The workshop offers full insight in all aspects of packaging including function, materials, systems and processes, distribution and more! You will leave this course better prepared to implement virtual design and sustainability practices to your company's packaging and related operations. This course is taught by School of Packaging professors and instructors and is reflective of the same core content instilled in our undergraduate curriculum.The workshop is a total of 32 hours of content, including many networking opportunities with course participants. Class size is limited. Sign up today!
Workshop cost is $1,995 and includes all materials, three lunches and one networking dinner.
Dates: May 11-15, 2015.
To register please visit our online store.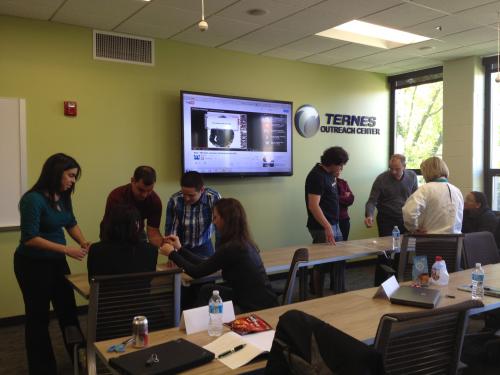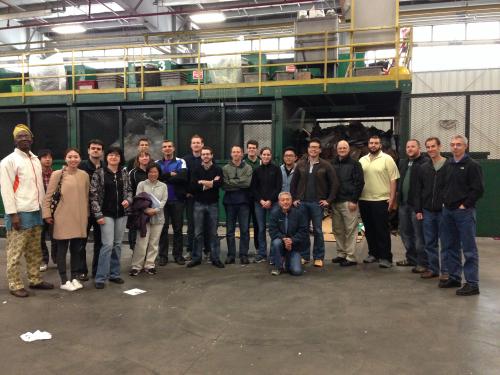 Networking Challenge 2013 2014 Group at the Recycling Center
Below is this year's course schedule:
2015 Michigan State University School of Packaging – Packaging Basics Course Agenda
448 Wilson Road, East Lansing, MI USA
Time

Daily Schedule

MONDAY May 11, 2015

1:00

WELCOME FROM THE DIRECTOR OF THE SCHOOL OF PACKAGING and Class Introductions

1:45

INTRODUCTION TO PACKAGING (a.k.a. PKG 101): This session will explore how packaging materials and containers are used to protect, contain, communicate and provide utility for products. It will introduce packaging terminology and provide the basic fundamentals for the remainder of the course.

3:45

BREAK

3:55

TOUR OF PACKAGING BUILDING: The tour will provide a detailed walk-through of all the School's laboratory space and highlight research areas.

4:30

NETWORKING CHALLENGE AND DINNER: Put your "skills" to the test and meet other industry professionals in a fun atmosphere. Learning wouldn't be the same if we didn't give you a group project! We will be walking to dinner and will provide a guided tour of the campus along the way, please dress accordingly and bring comfortable walking shoes. The walk one-way is approximately 20 minutes. Driving is an option as well.

TUESDAY May 12, 2015

8:15

Materials Section 1: GLASS AND METAL: This session will focus on the raw materials, manufacturing, forms, advantages and limitations of Glass and Metal packaging as used in packaging.

9:45

Materials Section 2: PAPER AND PAPERBOARD: This session will focus on the material characteristics and the processes of creating paper, paperboard and corrugated that are commonly used in packaging applications.

10:30

BREAK

10:40

Materials Section 2: PAPER AND PAPERBOARD continued

12:00

LUNCH

12:45

Materials Section 2: PAPER AND PAPERBOARD LABORTORY TOUR AND DEMONSTRATION

1:30

Materials Section 3: PLASTICS IN PACKAGING: This session will focus on the material characteristics and the processes of creating the different plastics that are commonly used in packaging applications.

2:45

BREAK

2:55

Materials Section 3: PLASTICS IN PACKAGING continued

4:15

Materials Section 3: PLASTICS IN PACKAGING LABORATORY TOUR AND DEMONSTRATIONS

WEDNESDAY May 13, 2015

8:15

LABELS, CLOSURES, PRINTING

9:45

BREAK and transition to room 121

10:15

VIRTUAL PACKAGE DESIGN & PROTOTYPE LABORATORY

11:30

LUNCH

12:15

Interactive group discussions of actual packaging projects; review of grab bag items as well as overview of MSU SoP Programs for industry

1:00

PACKAGING SUSTAINABILITY: This session will focus on materials that offer more sustainable choices for packaging applications and will also touch on LCA and other environmental aspects of packaging.

1:45

DECISION SCIENCE as it relates to packaging: This session will cover computer programs commonly used in packaging roles such as Microsoft Project and CAPE

3:00

Break

3:15

PACKAGING AND COMMUNICATION: What Cues Catch Consumer Attention?

THURSDAY May 14, 2015

8:00

DISTRIBUTION DYNAMICS - This session will focus on the distribution hazards most commonly found with shipping of packages such as; atmosphere, shock, vibration, drop and compression forces.

10:00

DISTRIBUTION DYNAMICS LABORATORY: Review demonstrations using the dynamic testing laboratory.

11:00

Break

11:15

ASTM/ ISTA standard explanation

11:30

SUPPLY CHAIN MANAGEMENT: This session will focus on the different mechanisms of supply chain environments and packaging opportunities for many different industry sectors

12:30

LUNCH

1:20

Travel to tours

2:00

Tour of Meijer Distribution
No Open Toe or Open Heeled Shoes please!

4:00

Tour of Smithers Pira

5:00

RETURN TO SCHOOL

FRIDAY May 15, 2015

8:15

PACKAGING MACHINERY and PACKAGING MACHINERY LABORATORY ACTIVITIES

10:30

BREAK

10:45

Class grab bag reports; 3-5 min flash reports from class

12:00

END
A block of rooms will be reserved for $99 per night until April 26, 2015 at the:
MARRIOTT TownePlace Suites East Lansing
Book your stay here for $99 per night
Other hotel options can be found under VISITING US.
Cancellation Policy: Cancellation prior to April 27 will receive full refund. After April 27, no refunds will be given. The School of Packaging reserves the right to cancel or change speakers without notice.
If you have questions, please contact Cimberly Weir at .(JavaScript must be enabled to view this email address)