Plant Trial Field Day
August 7, 2018 8:30AM - 2:00PM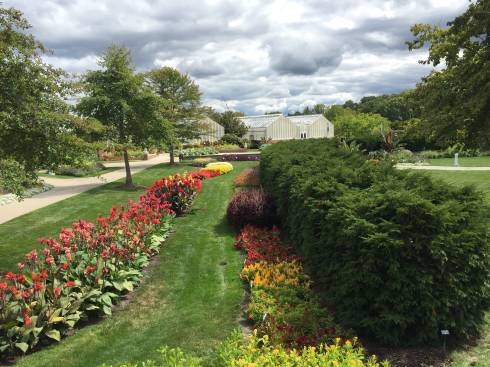 Join us for this popular annual event to learn about top-performing plants in the MSU Trial Gardens. Presentation information for 2018 will be available soon!
During your visit to campus, please save some time to tour our 14 acres of beautiful landscapes including a vast array of annuals, perennials, and woody plants. There are a multitude of theme gardens including our award-winning 4H Children's Garden, our annual display and trial gardens, roof-top gardens, demonstration vegetable garden, a Japanese garden, and more. Visit the MSU Gardens website for more information. You might also want to check out the new Controlled-Environment Lighting Laboratory (CELL) that can be viewed through windows on the first floor of the Plant & Soil Science Building.
Registration
Includes morning refreshments, lunch, trial booklet, and program
Online registration will be available soon (link will be posted here)
On or before July 31st
$42 per person (1-2 per company)
$36 per person (3 or more per company)
After July 31st
$52 per person (must be done on site)
Parking
NEW Parking Information: Unfortunately, we will no longer be able to offer free parking for Plant Trial Field Day. Attendees may still park in our Garden lot, but will need to pay the meters. Parking is $1.80 per hour and credit cards are accepted. If our Garden lot is full, you may park in the Wharton Center ramp from the Shaw/North entrance. The same meter rate applies.
Contact Information
Please contact Jennifer Sweet with any questions (hgardens@msu.edu or 517-353-0443)
Related Topic Areas
Event Location
1066 Bogue St, East Lansing, MI 48824
517-353-0329
Get Directions