The Matter is Life: Black Women & Violence Film Series
Date: February 16, 2016 - April 21, 2016
Time: 7 p.m.
Location: Wells Hall B122 (619 Red Cedar Road)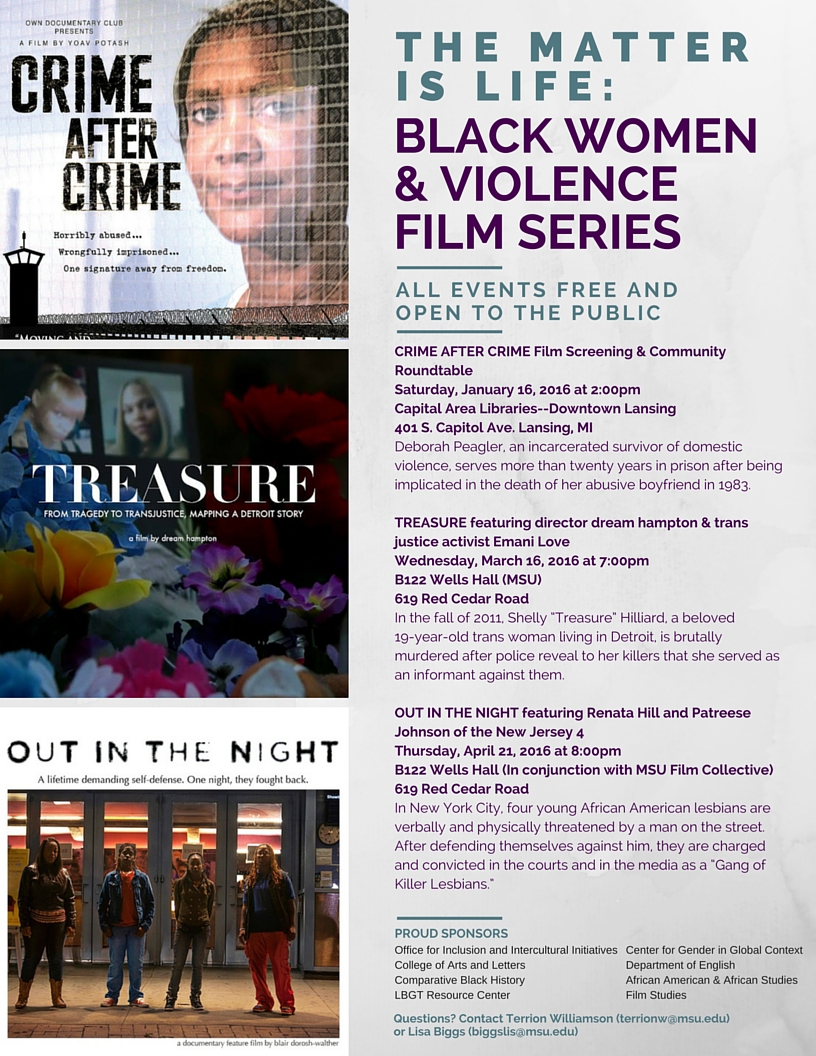 On SATURDAY, JANUARY 30 AT 2 p.m. at the Capital Area District Library in Downtown Lansing we will be screening /Crime After Crime/, the story of Debbie Peagler who was sentenced to 25 years-to-life after being implicated in the death of her abusive partner. The screening will be followed by what we're calling a "community roundtable" and is being specifically targeted toward faith communities. St. Stephen's Community Church is our community partner in this event.

On WEDNESDAY, MARCH 16 AT 7 p.m. in B122 Wells Hall we will be screening /Treasure/, which tells the story of a black trans woman named Shelley "Treasure" Hilliard who was murdered in Detroit in 2011. The film will be preceded by a trans justice workshop with activist Emani Love out of Detroit and a reception with the journalist and activist dream hampton, who is also the director of the film. dream and Emani will also lead the discussion of the film afterwards.

On THURSDAY, APRIL 21 AT 8 p.m., in collaboration with the MSU Film Collective, we will be screening /Out in the Night/, the story of four queer black women who were incarcerated for varying amounts of time following a violent altercation with a man on the street in 2006 in Greenwich Village. Renata Hill and Patreese Johnson, two of the women dubbed the "New Jersey 4" and the focus of the film, will be joining us for this event.