Contact | Location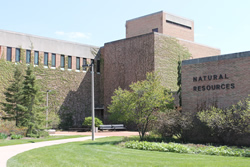 The Department of Forestry is located in the Natural Resources Building on the Michigan State University campus in East Lansing, Michigan. The main office is located on the first floor in Room 126 Natural Resources Building. If you have questions, we can be reached by mail, phone, email and fax.
Mail
Department of Forestry
Michigan State University
Natural Resources Building
480 Wilson Road, Room 126
East Lansing, MI 48824-6402
View our location on the MSU Interactive Map.
Visitor parking is available nearby on Trowbridge Road in Ramp #5 (View on the MSU Interactive Map)
Phone
(517) 355-0090
Email
Fax
(517) 432-1143