Horticulture Teaching and Research Center
Established in 1966, the Horticulture Teaching and Research Center (HTRC) encompasses 180 acres on the south campus of Michigan State University in Holt, Michigan. The center meets the needs of field labs for outdoor classrooms as well as basic research. The focus of research projects at the HTRC centers on vegetable, fruit, and ornamental crops. Today it is the primary facility for landscape and nursery research/extension programming on campus. It is also the regional center for IR-4 field research of minor use herbicides' registration. HTRC is also home to MSU's Student Organic Farm, which values and puts to practice alternatives to chemical use while growing and maintaining crops.
The Horticulture Teaching and Research Center Staff Members
Tom Fernandez, Faculty Coordinator
Bill Chase, Farm Manager
Project Forms
Choose the form which best applies to your project needs and click the appropriate link. The link will open Adobe Acrobat Reader, and you will view the document you selected. From there, you may print out and hand-write your information in the blank spaces, or you can type directly into the form. Please do not submit your forms online! Adobe Reader is required to obtain project forms online.
Please DO NOT FILL IN INFORMATION PERTAINING TO PROJECT NUMBERS OR BLOCK NUMBERS. These spaces are reserved for use by HTRC personnel. If you choose to type into the form, you can navigate through them using the "TAB" key located on the left side of your keyboard or by using your mouse.When your form has been completely filled out, please send it through campus mail to 288 Plant and Soil Sciences, or drop it off at the farm.
Farm Policies - IMPORTANT - Please read the attached detailed information
Overview
Shirts and closed toe shoes must be worn at all times. Rubber boots and long pants are required if working in a pesticide application area. Nitrile gloves are required if handling plant or soil material from an area with an early entry interval.
See Farm Manager for pesticide applications.
During inclement weather, proceed to the rally point which is in the main work area in garage 407B. Inform staff members if others are still in the field.
The HTRC is a non-smoking facility because of fire hazards in our buildings and outdoor areas.
Practice safe driving on the farm property and be award of solid-set irrigation when driving across fields.
Issuance of keys requires approval of the Farm Manager.
Report damages (including equipment) or stolen property to the Farm Manager.
Fueling of vehicles is restricted to HTRC staff only.
Any produce or plant material removed from the HTRC must be logged in the plant dispersal ledger located on the desk beneath the stairs in the garage.
Farm Service Standard Operating Procedures
An outline of services provided to Horticulture Faculty by the HTRC
Safety
HRTC Safety page
Equipment
Information regarding checking-out equipment at the HTRC
Buildings and Maps
HTRC Building Designations (Building Map)
Horticulture Teaching and Research Center (Farm Map)
The Winery
The HTRC has an established juice and wine grape vineyard, as well as a fully equipped laboratory and winery that is run by the Viticulture and Enology program of the Horticulture Department. If you are interested in learning more about either of these programs, please contact Paolo Sabbatini at sabbatin@msu.edu
Employment Opportunities
The HTRC provides rewarding employment opportunities for all students interested in participating in enjoyable and challenging work. There are two work periods at the HTRC:
In Sept.-April your duties will include final harvesting and data collection of research plots and routine maintenance of the farm.
In May-August your duties will include maintenance of research plots, general maintenance and upkeep of farm, public relations during public field activities, and harvesting and data collection of research plots throughout the growing season.
Please contact Bill Chase at 353-7878 or email at chasew@msu.edu if you are interested in a rewarding experience.
Weather
AWS hourly, monthly, or weather on demand data
NOAA - Data from the NOAA station is collected daily and correlated into a monthly report available upon request from the HTRC
Horticulture Farm Fruit Sales
Fall is a great time of year in Michigan, especially at HTRC. Why, you ask. Apples of course! The HTRC staff hand picks multiple varieties of apples from our many orchards, including Red and Golden Delicious, Jonagold, Empire, Gala, Jonathon, Red Rome, Mutsu, and a whole lot more. We invite you to our fruit sales to give them a taste and take some home.
We have two sales annually, which generally occur the last Friday in September and the second Friday in October. (These dates are subject to change based on weather and produce availability.) Along with our apples, you'll find items like pumpkins, squash, tomatoes, potatoes, onions and other seasonal vegetables. We normally have a selection of ornamental plants, and our friends in the entomology department usually send over some Spartan honey as well!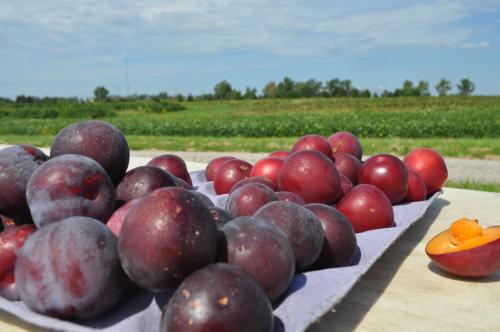 3291 College Road Holt, Michigan 48842
Email: chasew@msu.edu
Phone: 517-353-7878
Fax: 517-353-6677
Directions