Houseplant and Succulent Sale
Please join us for our Second Annual Houseplant and Succulent Sale at the MSU Horticulture Gardens. All sales help support the gardens, including funding for garden maintenance, educational programming, and support for our undergraduate student employees.
When: November 1st and 2nd, 9am-4pm daily
Where: 1066 Bogue Street, East Lansing, MI, 48824 (map of location and parking)
Parking: The closest parking lot is Lot 54 on Bogue Street (this is a metered lot). Additional parking is available at the Wharton Center parking ramp on Wilson Rd or at any metered lot on campus.
Plant Sale Inventories:
All plants are available in limited quantities (we have 75+ of some varieties and just a few of others). Arrive early on the November 1st for the best selection!
Cacti_and_Succulent_Inventory(updated 9-21-17)
Houseplant_Inventory(updated 9-21-17)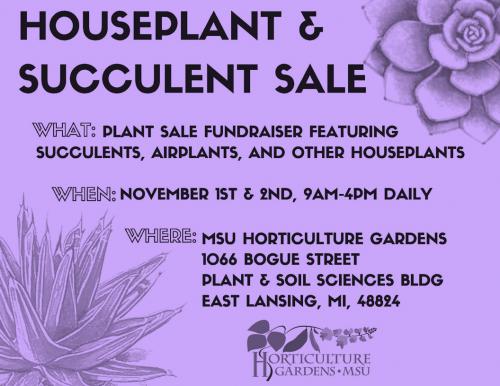 Check out these articles from our electronic Newsletter:
Insider's Guide to the Houseplant and Succulent Sale
Out of Thin Air-Plants: A guide to the wonderful world of Tillandsias