NALP NCLC
Every year MSU Horticulture Club participates in the National Collegiate Landscape Competition (NCLC) organized by the National Association of Landscape Profesionals (NALP). This event was formerly called the PLANET SCD.
Congratulations to the 2017 MSU NALP NCLC for Placing 2nd in the Nation!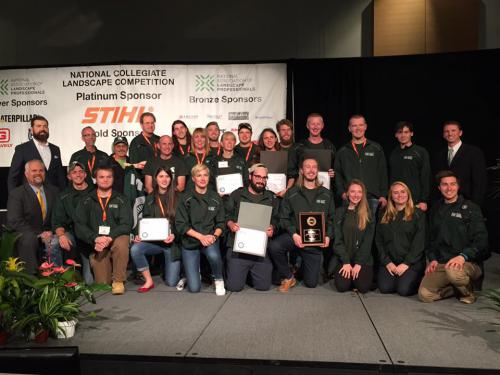 MSU Horticulture Club Places Second in North America at NALP National Collegiate Landscape Competition
Congratulations to members of Horticulture Club that represented MSU at NALP National Collegiate Landscape Competition hosted by Brigham Youngs University last March. The four-day event consisted of educational workshops, a career fair, and 29 competitive events which have been termed the Landscape Olympics. Team members competed against nearly 800 students representing 65 colleges and universities from across the United States and Canada. BYU - Provo came out on top with 4249.02 points and was followed by Michigan State University with 4159.02 points. Other Big Ten schools who competed included Penn State (9th) and Nebraska (39th).