Feed the Future Legume Innovation Lab Grain Legume Research Conference 2017
13 to 18 August 2017
Laico Ouaga 2000 Hotel
Ouagadougou, Burkina Faso

The Feed the Future Innovation Lab for Collaborative Research on Grain Legumes (Legume Innovation Lab) is pleased to announce its upcoming Grain Legume Research Conference in Ouagadougou, Burkina Faso, 13 to 18 August 2017. The conference is being held in partnership with the Institut de l'Environnement et des Recherches Agricoles (INERA) – Burkina Faso, an institute of the Centre National de la Recherche Scientifique et Technologique (CNRST).
The conference presents a forum for Feed the Future Legume Innovation Lab scientists and collaborators from the United States, Africa, and Latin America and the Caribbean to gather and to present their research findings and achievements on edible grain legume crops over the past five years.
The strategic focus of the conference will be on increasing grain legume productivity; strengthening grain legume value chains; enhancing nutrition, especially among women and children; and improving outcomes of research and capacity strengthening to ensure greater developmental impact.
The Feed the Future Legume Innovation Lab, funded by the United States Agency for International Development (USAID), has supported collaborative research on grain legumes involving scientists in 10 countries in Africa and three in Latin America and the Caribbean: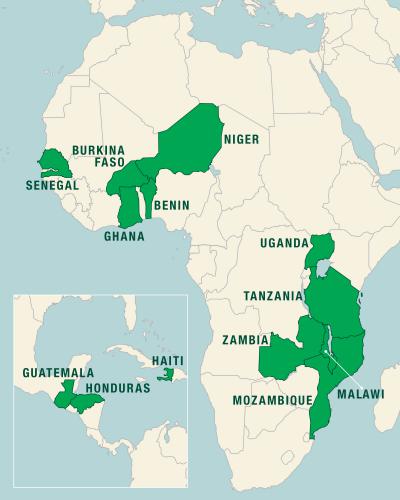 Benin Honduras Senegal
Burkina Faso Malawi Tanzania
Ghana Mozambique Uganda
Guatemala Niger Zambia
Haiti

Please email the Management Office if interested in participating in this conference: lilburkina2017@anr.msu.edu. Conference information will be regularly updated and a Call for Abstracts is available on the LIL website