Summits


The 2016 Michigan Good Food Summit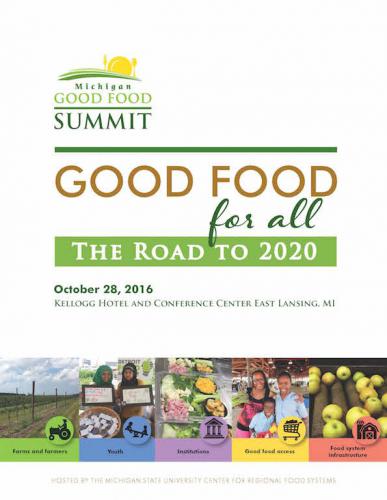 The 2016 Michigan Good Food Summit was held on October 28, 2016 at the Kellogg Hotel and Conference Center in East Lansing. Our nearly 500 attendees engaged and networked with others, celebrated good food achievements, learned and shared practices and ideas, enjoyed delicious meals, and reflected on and developed strategies for our theme: "Good Food For All: The Road to 2020."
2016 Good Food Summit Detailed Agenda
Breakout Session Presentations & Notes:
Bringing Local Meat into the Good Food Dialogue - PresentationNotes
Label, Label, What's on the Table - Presentation Notes
Policy & Advocacy for Healthy Sustainable Food System - PresentationNotes
The Good Food Charter in Rural Michigan - PresentationNotes
Greater Access to Fruit & Veg. at Farmers Markets - PresentationNotes
Evaluating Food Systems Change Through Stories - PresentationNotes
Developing Organizational Capacity for Youth Involvement - PresentationNotes
Lightning Session Presentations

As Local Goes Mainstream, What Is Your Business' Value Proposition? - CANCELLED
Bridging the GAPs and Beyond in Food Safety - Presentation Notes
Farmland Conservation for Beginning Farmers - PresentationNotes
Faith Communities for Just Food - Hazon PresentationAccess of West Michigan PresentationPlainsong Farm & Ministry PresentationNotes
Food Justice and How to Grow It - PresentationNotes
Understanding the Work of Leaders on the Road to 2020 - Presentation Notes
Connecting Kids to Healthy Food in School - PresentationNotes
Lightning Session Presentations
To look through past Good Food Summit agendas, workshops, and keynotes, please visit our Past Summits page.