2014 Michigan Garden Plant Tour recap – Part 1
Check out the "Best of the Best" varieties from the 11th Annual Michigan Garden Plant Tour. The young plant producers share the top five plants that visitors talked about the most from their host sites.
December 17, 2014 - Author: Tom Dudek, Michigan State University Extension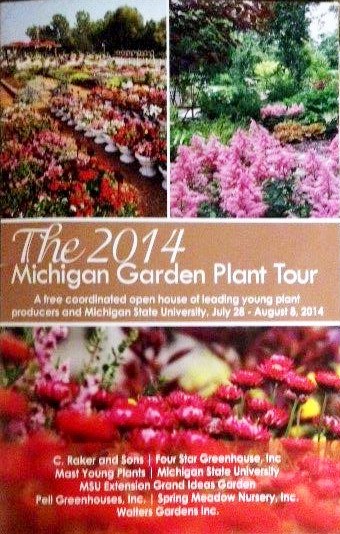 For the 11th consecutive year, Michigan State University Extension collaborated with six leading Michigan-based young plant producers to host the 2014 Michigan Garden Plant Tour. This two-week open house took place July 28 through Aug. 8, 2014, and educated greenhouse growers, retail garden centers, and industry professionals about new and existing plant selections and how they perform in different settings across the state.
Over 2,400 visits occurred at the six commercial sites plus the MSU Trial Gardens and the MSU Extension Grand Ideas Garden throughout the two weeks. During a presentation at the Michigan Greenhouse Growers Expo in Grand Rapids, Michigan, earlier this month, I shared the top five plants from the 2014 Michigan Garden Plant Tour. Those host sites were C. Raker and Sons, Four Star Greenhouse, Inc., Mast Young Plants, Pell Greenhouses Inc., Spring Meadow Nursery Inc. and Walters Gardens, Inc.
Download the list of each company's top five plants for the 2014 Michigan Garden Plant Tour.
Specific questions about these plants and their availability for 2015 should be directed to the appropriate young plant producer or your broker sales representative.
In Part 2 of this series, I share the results of the Best of the Best from the 2014 MSU Trial Gardens.
The 2015 Michigan Garden Plant Tour will be July 27 through Aug. 7, 2015. Visit the trial sites during that period to determine which plants you think are the best.
Tags: agriculture, floriculture, home gardening, landscaping, lawn & garden, msu extension