4-H livestock and veterinary science workshops return in February
The 2016 Veterinary Science and Beef, Sheep and Swine Teen and Adult Leaders Workshops will increase your knowledge about livestock and veterinary science while meeting new people and gaining valuable resources.
December 14, 2015 - Author: Julie Thelen, Michigan State University Extension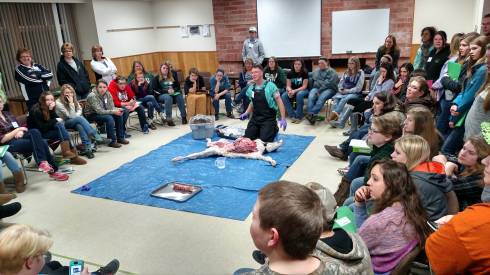 Don't let the winter weather keep you inside. Take advantage of the great educational learning opportunities offered through Michigan State University Extension and Michigan 4-H. If you are looking for a wonderful weekend of learning, we have just the opportunity for you. The 4-H Veterinary Science Teen and Adult Leaders Workshop and 4-H Beef, Sheep and Swine Teen and Adult Leaders Workshop are back to back educational events held Feb. 19-21, 2016, at Kettunen Center in Tustin, Michigan.
The 2016 Veterinary Science Workshop will be held the evening of Friday, Feb. 19, beginning with interactive veterinary case studies led by MSU College of Veterinary Medicine students. Saturday breakout sessions feature 12 veterinarians and veterinary students on topics of biosecurity, emergency care, international studies, genetics, careers and much more. The workshop concludes at 4 p.m. Saturday with an "Ask the Veterinarian" question and answer session.
We are excited about the session offerings for this year's workshop, but hearing from attendees truly tells the story of how impactful the event is. A 2015 Van Buren County youth participant commented, "This 4-H workshop was extremely beneficial because I learned a lot about other opportunities in the veterinary science career field. This has been a very fun workshop and I am looking forward to coming back next year."
A Washtenaw County youth participant had a similar experience, stating, "It is great to be able to meet other peers from all over the state along with veterinary students and veterinarians from MSU. Getting to know all these people and learn about many different topics makes this a great experience."
When the veterinary science workshop closes, the fun continues with a quick break for outdoor activities before the livestock workshop begins. The 2016 Beef, Sheep and Swine Workshop features engaging activities Saturday night, including a career panel lead by faculty from the Department of Animal Science. To keep momentum moving, Sunday kicks off with county exchange for the adult attendees and leadership development sessions for youth. The day continues with eight breakout sessions on topics of nutrition and feeding animals, marketing, management, animal selection and more.
If you are still wondering if it's the right workshop for you, here are some comments from 2015 Beef, Sheep and Swine Workshop participants:
These workshops are open to teen and adult leaders ages 13 (as of Jan. 1, 2016) and older. Choose which workshop or attend both to continue your science exploration as you are asking questions and discovering answers. You're sure to have a great learning experience while also meeting other youth and leaders with similar project interests. Whichever workshop you attend, you are guaranteed to depart the conference with new resources in hand and increased knowledge.
The cost to attend each workshop is $58 for 4-H members and volunteers. This is a reduced rate thanks to the generosity of Greenstone Farm Credit Services and Michigan Pork Producers Association. Non-members and other interested adults are also invited to attend for a fee of $105. Registration includes meals, lodging and resources. The deadline to register for this event is Feb. 7, 2016.
Plan on attending one or both of these great learning experiences! To register, please visit the 4-H Beef, Sheep and Swine and 4-H Veterinary Science registration page.
Keep your mind moving and fulfill your desire to learn this February by attending workshops and educational events. For other exciting learning opportunities, visit the Michigan 4-H Volunteer Training program webpage.
Tags: 4-h, 4-h veterinary science, animal science, beef, dairy, horses, msu extension, pork, poultry, sheep & goats