AFRE Professor to Present at World Bank
AFRE Food Security Group faculty members will bring their expertise to an international stage at the World Bank on November 16, 2017.
November 10, 2017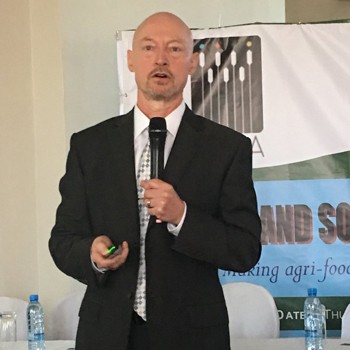 AFRE Food Security Group faculty members are bringing their expertise to an international stage at the World Bank.
On November 16, 2017, in Washington D.C., Thom Jayne will present the results of the team's research on the rise of medium-scale farms in Africa, and the causes and consequences of changing farm size distributions, based on a report written by Jayne and colleagues, Milu Muyanga, Felix Kwame Yeboah, Antony Chapoto, Ayala Wineman, and Nicholas Sitko.
The presentation will be moderated by the Chief Economist of the World Bank's Africa region, Albert Zeufack, and available online on November 16.
This presentation highlights the causes and consequences of changing farm size distributions in sub-Saharan Africa. Medium- and large-scale farms account for a rising share of total farmland, especially in the 5 to 100 hectare range where the number of these farms is growing especially rapidly. Medium-scale farms control roughly 20% of total farmland in Kenya, 32% in Ghana, 39% in Tanzania, and over 50% in Zambia. The rapid rise of medium-scale holdings in most cases reflects increased interest in land by urban-based professionals and influential rural people.
The rise of medium-scale farms is affecting the region in diverse ways that are difficult to generalize. Many such farms are a source of dynamism, technical change and commercialization of African agriculture. Evidence shows that the rise of bigger farms is encouraging new entry and investment by large-scale traders and more concentrated marketing channels as well as greater use of mechanization even by small-scale farmers. However, medium-scale land acquisitions may exacerbate land scarcity in rural areas, bid up land prices and encourage outmigration of rural youth.
Medium-scale farmers tend to dominate farm lobby groups and influence agricultural policies and public expenditures to agriculture in their favor. Nationally representative Demographic and Health Survey (DHS) data from six countries (Ghana, Kenya, Malawi, Rwanda, Tanzania and Zambia) show that urban households own 5% to 35% of total agricultural land and that this share is rising in all countries where two or more DHS surveys warrant comparisons over time. This suggests a new and hitherto unrecognized channel by which medium-scale farmers may be altering the strength and location of agricultural growth and employment multipliers between rural and urban areas. Given current trends, medium-scale farms will soon become the dominant scale of farming in many African countries.
Learn more about the World Bank and join us virtually to see the presentation live on November 16, using the meeting password: K3A6yEMR and meeting number: 857 789 944.