AgBioResearch weed scientist receives 2013 MSU Technology Transfer Achievement Award
AgBioResearch scientist Donald Penner is the recipient of the 2013 MSU Technology Transfer Achievement Award from the MSU Innovation Center.
June 24, 2013 - Author: Holly Whetstone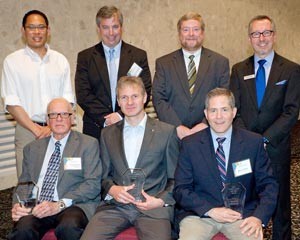 AgBioResearch scientist Donald Penner is the recipient of the 2013 MSU Technology Transfer Achievement Award from the MSU Innovation Center. The award recognizes a researcher or research group for long-term involvement and success in the development, licensing and commercialization of intellectual property while at MSU.
Penner, a professor in the MSU Department of Plant, Soil and Microbial Sciences, developed an adjuvant system to boost the productivity of herbicides, which delays the appearance of resistant weeds and allows farmers to apply herbicide at lower rates per acre. The products were applied to tens of millions of acres last year, and generated more than $800,000 in royalties.
Penner, who joined the MSU faculty in 1967, is an international leader in the field of weed and herbicide physiology. His research activities include weed physiology, herbicide action and fate, herbicide resistance in crops and weeds, and foliar absorption of herbicides.
He has developed herbicide-resistant plants, including glyphosate-resistant turfgrass that is licensed to The Scotts Company, and sulfonylurea-resistant sugar beets that are licensed to SESVanderHave, a global leader in the sugar beet seed industry. One invention, designed to allow insecticides and/or herbicides to penetrate a canopy of plants and reach soil or water underneath, may be useful in the global fight against mosquitoes carrying malaria and yellow fever.
Penner has published hundreds of papers in scientific journals, co-authored a book and written numerous book chapters during his career. He has been active in curriculum development for the department and has served as a major professor for numerous graduate students.
Penner was presented the Weed Science Society of America Outstanding Research Award in 1987, the Fellow Award in 1993, and the Outstanding Teaching Award in 1997. In 1994, he was honored with the Senior Faculty Meritorious Research Award by the MSU Chapter of Sigma Xi. Penner became a fellow of the American Association for the Advancement of Science in 1996.
The MSU Innovation Center is the university's technology transfer and commercialization office that is made up of MSU Technologies, Business-CONNECT and Spartan Innovations. It launches more than 120 discoveries into patented products and start-up businesses annually.
"When it comes to invention, it requires a remarkable amount of labor and imagination to create something new, something better. Sharing that research with the world takes creativity, perseverance and a lot of trial and error," said Charles Hasemann, Innovation Center executive director. "We provide resources and support to reduce barriers and help both students and faculty bring more of our best research ideas to market."
Other MSU researchers who received awards at the 2013 Innovation Celebration were Marcos Dantus, professor of chemistry, who received the Innovator of the Year award and Norbert Mueller, associate professor of mechanical engineering, who was honored with the Innovation of the Year award.