Best of the best: Top plant performers at the 2015 MSU Trial Gardens – Part 2
MSU's Demonstration Garden's list of top performing annuals can give greenhouse growers, landscapers and gardeners some great performing plants to choose from in 2016.
January 12, 2016 - Author: Tom Dudek, Michigan State University Extension, and Daedre McGrath, MSU Department of Horticulture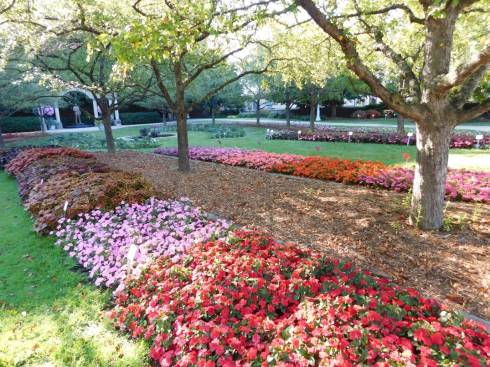 Starting in 1977, each year Michigan State University Department of Horticulture's Annual Trial Gardens has evaluated hundreds of new annuals grown from seed or cuttings. In 2015, trial selections were supplied by 36 private breeding companies and the plants were grown in MSU greenhouses and transplanted into either ground beds or containers after the last frost passed, which in 2015 was May 25 to June 9.
The performance of each plant in the trials is evaluated bi-weekly by MSU Horticutlure Gardens staff on vigor, uniformity, ornamental value-flowers and foliage. In addition, disease and insect susceptibility is noted as well as effects of the climate that season. Plants are rated on a 1.0 (poor) to 5.0 scale with 5.0 being exceptional performers. The purpose of the trial is to grow and evaluate new and old species and cultivars under mid-Michigan growing conditions that include, in most years, cool springs, hot-humid summers and a frost-free period from mid-May to early October.
All transplants are greenhouse-grown and no plant growth regulators are used. After transplanting to beds or containers, they are fertilized every two weeks and hand-watered as needed. No treatments were given in 2015 for insect or disease control in the annual gardens. Other than spider mites on the dahlias and typical damage from Japanese beetles, relatively few troublesome insects or diseases were noted this year.
Approximately 36 plants had an average rating of 5.0 for the entire 2015 trial season. Plants that were the best included 10 begonias, seven coleus, three petunias and four portulaca. See the full list of the top winners and best in class at the bottom of this article, or download a PDF at: 2015 Top Performers at MSU Horticulture Gardens.
Plant performance data from the MSU Trial Gardens is a useful tool for Michigan's retail greenhouse growers, garden centers, landscapers and the gardening public. Michigan State University Extension recommends choosing plants that have a good performance history which can lead to high customer satisfaction.
See also: 2015 Michigan Garden Plant Tour recap – Part 1
2015 Best of the Best
Reserved for plants that received a perfect 5.0 score throughout the evaluation season.
Angelonia Archangel Light Pink - Ball FloraPlant
Begonia BabyWing Red - PanAmerican Seed
Begonia BIG Pink Green Leaf - Benary
Begonia BIG Red Bronze Leaf - Benary
Begonia BIG Red Green Leaf - Benary
Begonia BIG Rose Bronze Leaf - Benary
Begonia BIG Rose Green Leaf - Benary
Begonia Unbelievable Lucky Strike - Dummen
Begonia San Francisco - Benary
Begonia San Francisco - Benary
Begonia Santa Cruz - Benary
Bidens Campfire Fireburst - Proven Winners
Calibrachoa Aloha Kona Dark Lavender - Dummen
Coleus ColorBlaze Apple Brandy - Proven Winners
Coleus ColorBlaze Velveteen - Proven Winners
Coleus FlameThrower Spiced Curry - Ball FloraPlant
Coleus Abbey Road - Dummen
Coleus Campfire - Ball FloraPlant
Coleus Fifth Avenue – Dummen
Coleus Oxford Street - Dummen
Dahlia Hypnotica Purple Bicolor - Dummen
Euphorbia Glitz - PanAmerican Seed
Ipomoea SolarPower Black - Ball FloraPlant
Ipomoea SolarPower Red - Ball FloraPlant
Ipomoea Sweet Caroline Sweetheart Lime - Proven Winners
Lantana Luscious Pinkberry Blend - Proven Winners
Marigold Taishan Orange Improved - PanAmerican Seed
Petunia Peppy Lavender - Dummen
Petunia SUCCESS! Rose - Benary
Petunia Tidal Wave Red Velour - PanAmerican Seed
Portulaca Mojave Fuchsia - Proven Winners
Portulaca Mojave Pink - Proven Winners
Portulaca Mojave Red - Proven Winners
Portulaca Mojave Tangerine - Proven Winners
Salvia Black & Bloom Ball - FloraPlant
Sedum Lemon Coral - Proven Winners
Best in Class
Top performers in each major plant category.
Best Begonia of 2015
Begonia BabyWing Red - PanAmerican Seed - 5.0
Begonia BIG Pink Green Leaf – Benary - 5.0
Begonia BIG Red Bronze Leaf – Benary - 5.0
Begonia BIG Red Green Leaf – Benary - 5.0
Begonia BIG Rose Bronze Leaf – Benary - 5.0
Begonia BIG Rose Green Leaf – Benary - 5.0
Begonia Unbelievable Lucky Strike – Dummen - 5.0
Begonia San Francisco – Benary - 5.0
Begonia San Francisco – Benary - 5.0
Begonia Santa Cruz – Benary - 5.0
Begonia Santa Cruz – Benary - 4.7
Begonia Nonstop Mocca Bright Orange – Benary - 4.7
Begonia Nonstop JOY Yellow – Benary - 4.6
Best Calibrachoa of 2015
Calibrachoa Aloha Kona Dark Lavender – Dummen - 5.0
Calibrachoa Aloha Volcano Sunset – Dummen - 4.9
Calibrachoa Hula Lavender – Dummen - 4.8
Calibrachoa Can-Can Pink Splash - Ball FloraPlant - 4.7
Calibrachoa Can-Can Red Splash - Ball FloraPlant - 4.7
Calibrachoa Cabaret Light Pink Improved - Ball FloraPlant - 4.5
Best Coleus of 2015
Coleus ColorBlaze Apple Brandy - Proven Winners - 5.0
Coleus ColorBlaze Velveteen - Proven Winners - 5.0
Coleus FlameThrower Spiced Curry - Ball FloraPlant - 5.0
Coleus Abbey Road – Dummen - 5.0
Coleus Campfire - Ball FloraPlant - 5.0
Coleus Fifth Avenue – Dummen - 5.0
Coleus Oxford Street – Dummen - 5.0
Coleus FlameThrower Chili Pepper - Ball FloraPlant - 4.7
Coleus Marquee Special Effects - Burpee Home Gardens - 4.7
Best Mixed-species Combinations of 2015
Combination Confetti Garden Glossy Cherry – Dummen - 4.7
Combination Confetti Garden Hawaiian Summer – Dummen - 4.7
Best Geranium of 2015
Geranium Sarita Dark Red – Dummen - 4.6
Best Lantana of 2015
Lantana Luscious Pinkberry Blend - Proven Winners - 5.0
Lantana Evita Orange – Dummen - 4.7
Lantana Evita Pink Improved – Dummen - 4.7
Lantana Evita Rose – Dummen - 4.6
Lantana Evita Yellow – Dummen - 4.6
Best Petunia of 2015
Petunia Peppy Lavender – Dummen - 5.0
Petunia Prostrate Surprise Blue Sky Dummen - 5.0
Petunia SUCCESS! Rose – Benary - 5.0
Petunia Sweetunia Hot Pink Touch – Dummen - 5.0
Petunia Sweetunia Purple Spotlight HGTV – Dummen - 5.0
Petunia Tidal Wave Red Velour - PanAmerican Seed - 5.0
Petunia SuperCal Combo – Sakata - 4.7
Petunia Sun Spun Pink - Ball FloraPlant - 4.7
Petunia Sun Spun Raspberry Star - Ball FloraPlant - 4.7
Petunia Sun Spun Salmon - Ball FloraPlant - 4.7
Petunia Sweetunia Black Satin – Dummen - 4.7
Petunia Easy Wave Pink Passion - PanAmerican Seed - 4.6
Petunia Peppy Purple – Dummen - 4.6
Petunia SUCCESS! Pink – Benary - 4.6
Petunia Supertunia Pink Star Charm - Proven Winners - 4.6
Petunia ColorWorks Violet Star – Sakata - 4.5
Petunia Supertunia Vista Bubblegum - Proven Winners - 4.8
Petunia Supertunia Vista Silverberry - Proven Winners - 4.8
Best Zinnia of 2015
Zinnia Double Zahara Salmon Rose - PanAmerican Seed - 4.6
Tags: agriculture, floriculture, home gardening, landscaping, lawn & garden, msu extension