BHEARD scholar breeds better peanuts for Ghanaian farmers
Leaf spot is a major disease of peanut. When it strikes peanut-producing areas of the world, including Ghana, it can cause yield losses of up to 80%.
July 20, 2017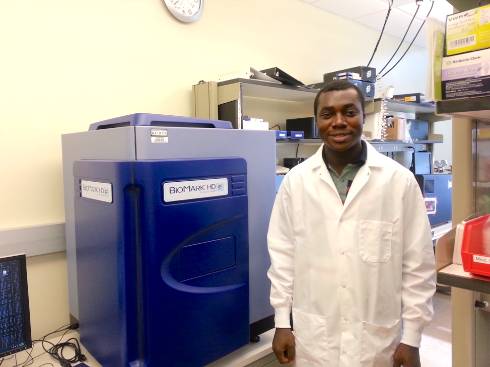 Leaf spot is a major disease of peanut. When it strikes peanut-producing areas of the world, including Ghana, it can cause yield losses of up to 80%. If not controlled, leaf spot results in complete defoliation of peanut plants, meaning no leaves are available to feed farm animals.
Control methods are available, but not necessarily sustainable. Most farmers use fungicides, for example, but fungicides can have serious health and environmental consequences.
The most sustainable control method for leaf spot, according to Theophilus Kwabla Tengey, is to use disease-resistant peanut varieties. Tengey, pictured above, is a Ghanaian scholar with the Borlaug Higher Education for Agricultural Research and Development (BHEARD) program, seeking a Ph.D. in plant and soil science, with a specialization in crop science, at Texas Tech University.
The goal of BHEARD, supported by the U.S. Agency for International Development, is to develop agricultural scientists and increase agricultural research capacity in partner countries. The program is named after Dr. Norman Borlaug, an American biologist, humanitarian and Nobel laureate who has been called "the father of the Green Revolution."
Tengey's research focuses on introgressing leaf spot-resistant QTLs (quantitative trait loci) into cultivated peanut lines with the aid of molecular markers, work that will contribute to the rapid development and release of disease-resistant varieties.
Tengey chose Texas Tech for his Ph.D. because it offered him training in plant breeding and genetics, under the tutelage of Dr. Mark Burow and Dr. Venugopal Mendu.
Prior to Tengey joining Texas Tech, Burow and technician Jennifer Chagoya successfully made crosses between a high-oleic U.S. peanut variety and a leaf spot-resistant material, as well as a variety adapted to West Africa and a leaf spot-resistant line. Tengey has advanced the resulting population to the F3 generation, and will evaluate these lines for leaf spot resistance and oleic content. Promising genotypes with resistance to leaf spot and high oleic acid content will be advanced and released for eventual use by farmers, he said.
Tengey's studies will solve nutritional problems in Ghana by providing peanuts with essential fatty acids to consumers, and will guarantee high profits for peanut farmers because they won't have to rely on fungicides to control leaf spot. High-oleic peanuts will also attract processing companies because of their longer shelf life, good flavor and prevention of heart diseases.
Tengey has made presentations at annual conferences of the American Peanut Research and Education Society and the International Plant and Animal Genome Conference. Those meetings exposed him to the activities of the International Peanut Genome Initiative and Crop Germplasm Committee, among others. He's met with other industry stakeholders, too, such as professors, researchers, seed companies and peanut processing companies, who will help him in his quest to develop a strong research and peanut industry in Ghana.
Tengey will return to Ghana in August, where he will continue his Ph.D. research as a scientist with the Council for Scientific and Industrial Research's legume improvement program. He said his studies will be of immense benefit to his home country, since he will be the first scientist to introduce peanut genotypes with high oleic content and resistance to leaf spot disease.
– Matt Milkovich