Community Kitchen Opens in Muskegon
Kitchen 242 at the Muskegon Farmer's Market, a new community kitchen, opened for business this week.
May 18, 2015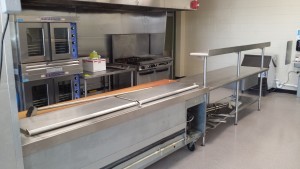 By Community and Economic Development, City of Muskegon
Muskegon, Michigan — Kitchen 242 at the Muskegon Farmer's Market opened for business this week. Kitchen 242 is a certified commercial kitchen in downtown Muskegon located at the Muskegon Farmers Market on Western Avenue, Muskegon. The approved kitchen provides a rentable facility for food business entrepreneurs to prepare their products. Community kitchen space is also available for cooking classes and culinary events.
Pioneer Resources was chosen by The City of Muskegon to manage the kitchen along with Dana Gannon, Nutritionist with Muskegon Public Health Department.
Rich Thorstenson with Pioneer Resources and a team of people have been working to get the kitchen equipment properly installed. Thorstenson commented "We are thrilled to finally open and look forward to scheduling entrepreneurs and culinary events to serve the community of Muskegon." "Kitchen 242 is available for rent 24 hours a day, 7 days a week" he added. We have been working with our first entrepreneur for a few months now to help her prepare with the proper licensing and she made her first batch of spaghetti this week to sell at the Muskegon Farmers Market", he added: "We have other entrepreneurs in the process that will be utilizing the kitchen soon."
Dana Gannon from Muskegon Public Health who is managing education for Kitchen 242 said: "Plans are in the works for many culinary and educational programs around healthy eating and food preparation."
We are pleased that Phase II of this development is now almost complete," said Cathy Brubaker-Clarke, Director of Community and Economic Development with the City of Muskegon." "We chose Pioneer Resources to manage Kitchen 242 because of their experience in food-related businesses," she added. Brubaker-Clarke also said, "With a major goal of nurturing food entrepreneurs, we hope that this will create new businesses that eventually will relocate from Kitchen 242 into their own space within the City of Muskegon."
More information on Kitchen 242 can be found at their website.