Dairy Jobs Training to be offered in Central Michigan
Working on a dairy farm can provide competitive wages and stable employment.
February 3, 2016 - Author: Faith Cullens, Faith Cullens, Michigan State University Extension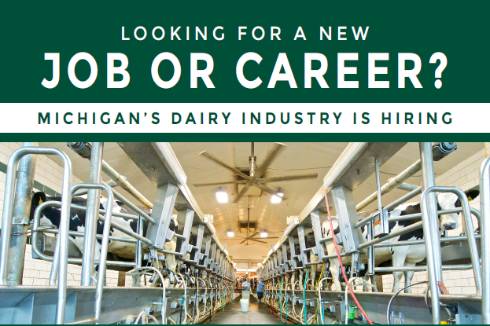 Dairy farms across Michigan are looking for employees who are open to learning new things, enjoy being around animals and are reliable, hard workers.
Interested employees do not need to have experience or specialized training to start a new career on a dairy farm, but they will likely learn many new marketable skills. Many dairy farms are looking for workers to milk cows, feed calves, operate machinery and maintain and repair equipment and provide on-farm training. Working on a dairy farm offers a variety of tasks on the job because caring for animals often means that every day is different.
It is very important that employees on a dairy farm are reliable because the animals and the other workers count on you to be there on time. Cows need to be fed and milked at the same times every day.
If you are wondering whether a job on a dairy farm might be for you, there is a free training opportunity available in mid-Michigan. A hands on short course will be offered March 21-31 2016 through Michigan State University Extension. Fill out an application today to attend the session.
To learn more about how you can receive training for jobs in the dairy industry and find more information about this opportunity, contact Faith Cullens at 989-224-5249, cullensf@msu.edu or visit the website.
Tags: agriculture, dairy, msu extension
---