Grazing School for Beginners offered at three locations in Michigan by MSU
The Michigan State University Grazing School for Beginners will be offered at three locations across Michigan Sept. 24-25.
August 13, 2015 - Author: Jerry Lindquist, Michigan State University Extension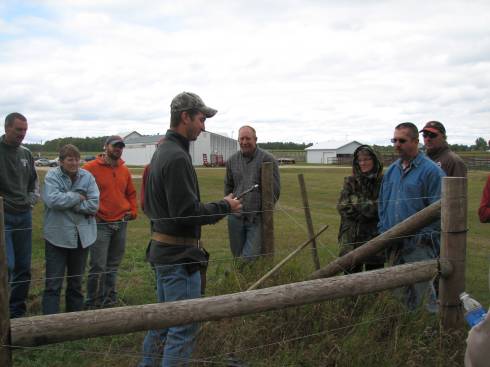 Michigan State University Extension will offer a beginning grazing school for farmers and landowners grazing dairy, equine and livestock animals at three locations in Michigan simultaneously using high-speed video conferencing in September. The two-day school will be offered at the MSU Kellogg Biological Station Dairy Learning Center in Hickory Corners, Mich., the MSU Lake City Ag BioResearch Center in Lake City, Mich., and the MSU Upper Peninsula Research and Extension Center in the Central Upper Peninsula of Michigan near Chatham. Recent high-speed transmission upgrades at these locations have made it feasible to reach farms in more locations with this high quality educational program. Each location will have Michigan State University grazing specialists and Extension educators onsite who will be presenters and will be conducting in-field demonstrations. Participants only need to attend the closest location to participate in the full school and gain the expertise of the numerous speakers from across the state.
The school will be held on Sept. 24 and 25. The goal of the school is to blend classroom instruction with in-field education and the latest animal and forage research to give participants an in-depth introduction to grazing management.
Major topics will include:
Introduction to managed grazing
Pasture management and decision making
Livestock nutrition and requirements on pasture
Forage yield determination and pasture allocation
Grass and legume species identification
Pasture soil fertility and management
Grazing systems, layout and design
Water systems and requirements
Building and using fence for grazing
Pasture establishment and improvement
Early registration is $125 per person; a second participant from the same farm may also attend for $80. The early registration deadline is Sept. 18, 2015. The registrations received after that date will be $150 per person and walk-ins the day of the event will be charged $175 per person. Fee includes workshop notebooks, resource materials, all meals and refreshments. Questions may be directed to either Misty Klotz, KBS Pasture Dairy Outreach Coordinator at klotzmis@msu.edu or 269- 671-2263; Jerry Lindquist, MSU Extension Grazing Educator at lindquis@msu.edu or 231-832-6139, or Frank Wardynski, MSU Extension Beef & Dairy Educator at wardynsk@anr.msu.edu or 906-884-4386.
---
Related Articles