Health insurance shoppers beware: Smart decisions to pick a plan on more than just premium costs
Calculate how much you spend out-of-pocket for total health costs. Learn these reasons why it can save you a bundle.
December 15, 2015 - Author: Brenda Long , Michigan State University Extension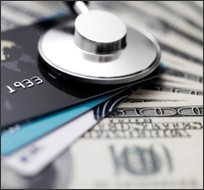 The health insurance marketplace enrollment season for 2016 is underway. Making a choice can be confusing. You may be tempted to select the lowest premium you can find. However, it is important to look at more than just the monthly premium. This article will focus on some positive actions you can do to evaluate your current needs, finding the right plan for you, and affordability.
Many people enroll in the marketplace in silver and bronze plans with the lowest premium. But for patients with regular health care needs, much of their annual health expenses are also determined by the cost-sharing structure of the plan they select. The National Health Council has created a free, online calculator, which is easy to use, helps people have a better understanding of their health insurance marketplace options, and find coverage that meets their individual health care and budget needs. The free calculator shows how an individual's total annual health care spending can vary based on plan selection.
Depending on your household income and health needs, a plan that has a higher monthly premium but offers better coverage could be a smarter choice. That is why it is worth the effort to accurately review the last year's medical expenses. Next year may be different, but some needs can be projected.
In the marketplace, you may be eligible for tax credits or cost-sharing premium discounts. Tax credit subsidies are available to eligible individuals and families with incomes below 400 percent of the federal poverty level ($47,080 for an individual and $97,000 for a family of four).
But the cost-sharing discount applies only if you buy a silver plan. This is another reason the cheapest plan isn't always the best. People buying a silver plan with incomes below 250 percent of poverty ($29,425 for an individual and $60,625 for a family of four) can lower the amount they pay out of pocket for deductibles, coinsurance, and co-payments with a cost-sharing reduction discount.
Use this calculator from the Kaiser Family Foundation to estimate your subsidy.
Doctor visits, medicine, braces and glasses are some expenses you have to pay for beyond an insurance premium. The good news is there are ways to manage your health care costs to save money. Also look for related articles on reasons to have health insurance (Part 1), estimating total health care out-of-pocket expenses (Part 2), and special health savings accounts (Parts 3 and Part 4), correctly filing your federal income tax return (Part 5) and ways to save (Part 6).
Go to Healthcare.gov to check out the plans in your area, and to Enroll Michigan to find where to get in-person help. Open enrollment for 2016 ends Jan. 31. The longer you wait to sign up, the longer you'll wait for coverage.
Michigan State University Extension provides information about health insurance basics, including the why, what and how for making a smart decision. Find out about Smart Choice: Health Insurance and factual information online.
---
Related Articles