Madison Hoxsie receives 2016 Construction Management Student of the Year Award
The recipient of the 2016 Construction Management Student of the Year Award is Madison Hoxsie, a recent spring semester graduate.
May 24, 2016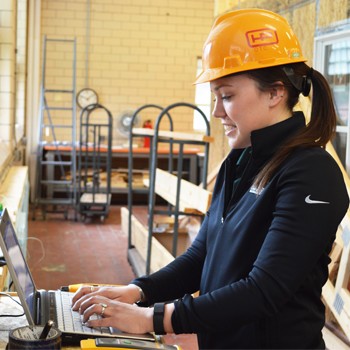 Each year, the MSU Construction Management Alumni and Industry Advisory Association Board selects undergraduate students majoring in Construction Management (CM) at the School of Planning, Design and Construction (SPDC) to be nominated for their Student of the Year Award. To be eligible, students must have achieved the highest level of academic accomplishment, demonstrate leadership and hold high standards of integrity. The recipient of the 2016 Construction Management Student of the Year Award is Madison Hoxsie, a recent spring semester graduate.
Hoxsie transferred to Michigan State as a sophomore. She has always enjoyed the built environment and being very hands-on with whatever she is doing. Starting in high school, Hoxsie was involved in volunteer work in repairing and building, which contributed to her interest in construction management. After taking CMP 124 with Dennis Welch, an instructor in the CM Program, Hoxsie knew that MSU was where she wanted to complete her bachelor's degree.
Throughout her time at MSU, she has been an active member in the CM Program, both in and outside the classroom. She was active in CM-related extracurricular activities, such as serving as treasurer of the Student Builders and Contractors Association (SBCA) for one year, and being an active member for three-and-a-half years.
"I think everyone should get involved," she remarked.
Even after graduation she is helping the group to improve. She believes that the SBCA gives students the opportunity to mingle and make friends, network and gain knowledge outside of a classroom setting. Hoxsie also volunteered as one of the student builders of MSU's first Tiny Home known as Sparty's Cabin.
Advice she has for other CM students is that it is important to take advantage of all of the extracurricular activities you can. "Get involved. Not only with SBCA, but also with your professors. Get to know your classmates," she offered. "But, most of all, have fun!"
Hoxsie has exceled throughout her academic career at MSU, and this year she achieved an overall grade point average of 3.5 in her CM courses. Additionally, she successfully completed a 2015 summer internship as a field engineering intern with Hensel Phelps in Omaha, NE.
She was both "excited and humbled" upon finding out she was selected to receive this award. Hoxsie said it means a lot to be recognized for her hard work and active participation in the program. She is extremely proud to be a part of "such a close knit program."
Hoxsie already has a job lined up after graduation with Hensel Phelps, one of the largest general contractors in the US. She will be working as a field engineer for the company's Plains District. Once assigned, she will be relocated to Wyoming, Colorado or Nebraska. Once she gains experience in the industry, she wants to participate in disaster relief where she can help others rebuild their lives, either in her professional career or spare time.
Please join us in congratulating Hoxsie for her achievement!