October 23, 2017 - Author: ANR Communications and Marketing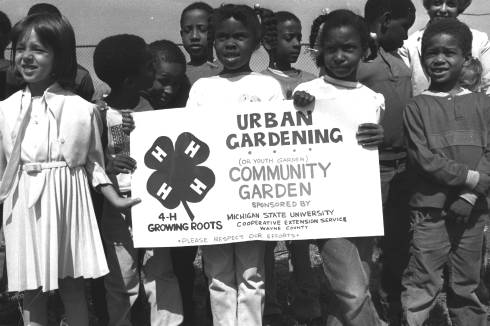 In 1914 when President Woodrow Wilson signed the Smith-Lever Act into law, he called it "one of the most significant and far-reaching measures for the education of adults ever adopted by the government."
The Smith-Lever Act gave birth to the Cooperative Extension System, the name signaling support from federal, state and local governments to take the university to the people.
Three years later, O.I. Gregg became the first county agricultural agent in Wayne County, thereby planting the seeds of what is celebrated now as a century of work in and around metro Detroit.
This year, Michigan State University Extension educators, staff and personnel gathered in Detroit for their annual professional development conference. There, they will also mark 100 years of teaching, learning and relationships.
At the conference, MSU Extension Director Jeff Dwyer (photo at right) highlighted just how integral to the fabric of the city MSU Extension is and has been, and how important Detroit is to MSU Extension as an organization.
Here's a look at some of the history of the relationship:
MSU Extension in Detroit: A Timeline
1910s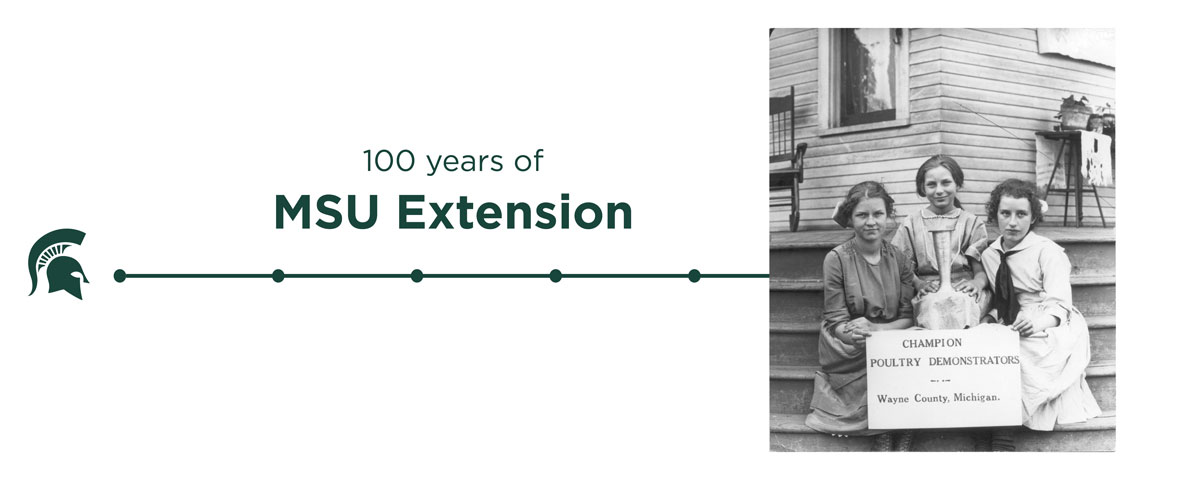 1917
Mary H. Grosvenor was named the county's first 4-H agent, working with Wayne County youth.
1919
Michigan Public Act 315 enables counties to appropriate or raise money by taxation to promote agricultural interest and to provide for Extension work in cooperation with what was then known as the Michigan Agricultural College.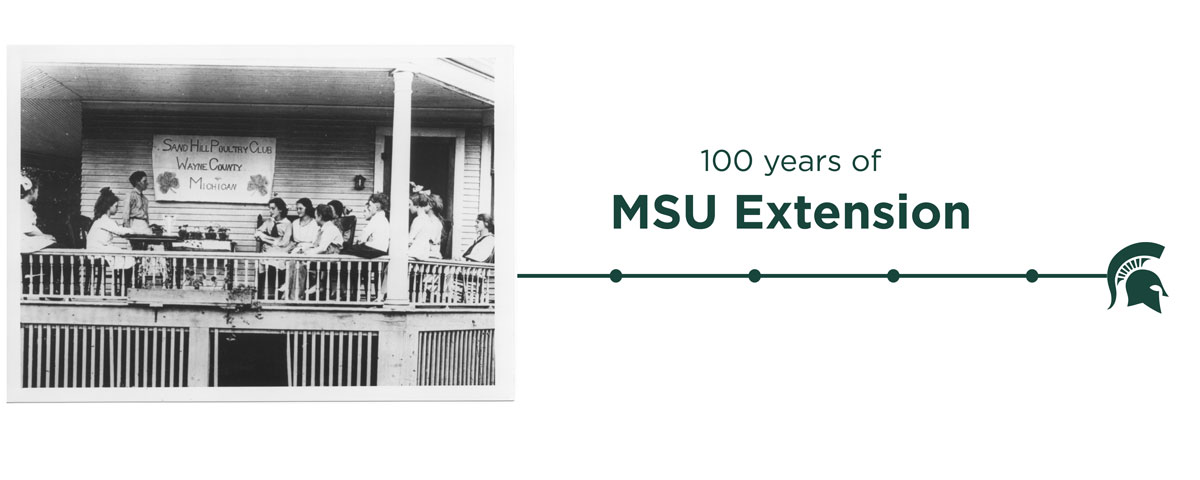 1928
The Capper-Ketcham Act was passed to expand work in 4-H and home economics – 80 percent of this appropriation provided in this act was to support field staff.
1940s
MSU Extension's wartime efforts and communication endeavors, including:
● Farmers' markets in Detroit saw war food assistants teach shoppers how to preserve food through canning and freezing.
● Mass communication (press and radio) were used by Extension. Radio farm director Marshall Wells of WJR Detroit had town and country programs that were heard for nearly 30 years.
● MSU Extension staff were pioneers in the state's first telecast when State Extension Director Robert J. Baldwin appeared on WWJ-TV in Detroit.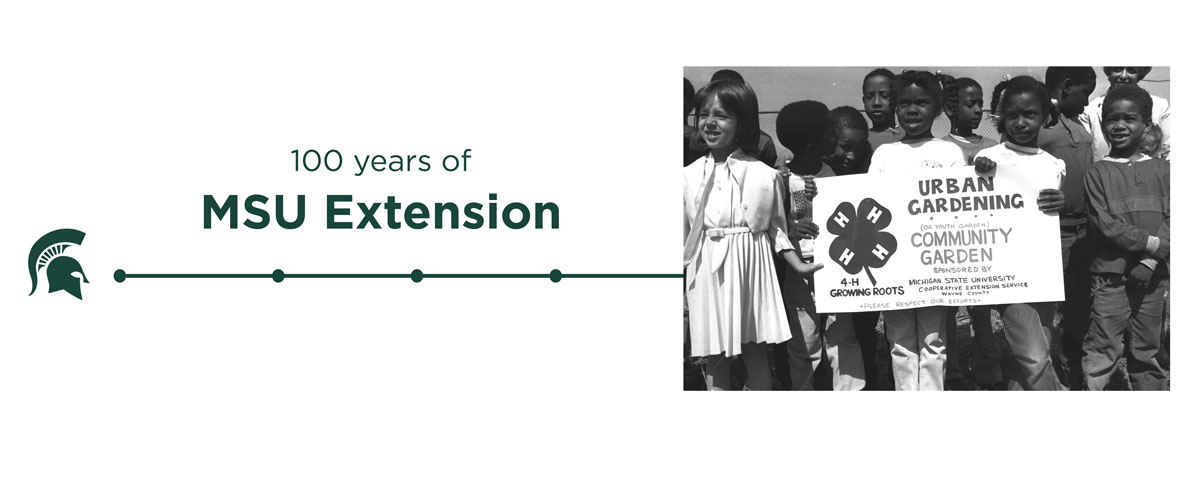 1952
When America celebrated the 50th anniversary of 4-H, Michigan responded by establishing the Michigan 4-H Foundation to encourage private financial support that would supplement the public support provided by the cooperative partnership of county, state and federal government.
1953
MSU Extension opened the first regional centers for Continuing Education in Detroit, Kalamazoo and Traverse City. Marjorie Gibbs was appointed to the Detroit center in 1954.
Staff for Consumer Marketing information developed programs in cities like Detroit to inform producers and consumers about agricultural products. They used television broadcasts, newsletters, news columns and radio broadcasts to teach consumers how to get the most from their food dollar.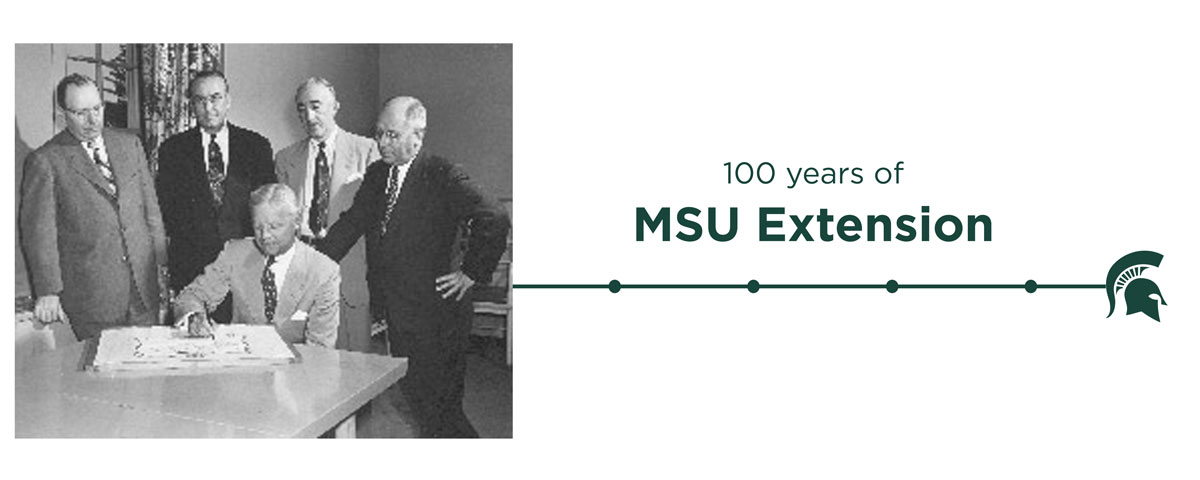 1960s
Sea Grant organizations are formed nationally. Michigan Sea Grant supports research, outreach and education to enhance sustainable use of Great Lakes resources, benefiting the environment, the quality of life, and the Michigan, Great Lakes and national economy, including programming on the Detroit River and Lake St. Clair.
1968
Congress voted to shift funds form overseas food exports to the Expanded Nutrition Program. Totalling more than $1.5 million for the state, MSU Extension was chosen to manage those dollars. This program was the start of what is now known as the Expanded Food and Nutrition Education Program (EFNEP) which focuses on increasing nutrition and nutrition-related knowledge and skills for limited-resource children and families.

1970s
Through 4-H, a federal grant funded a large urban gardening project in Detroit and the Detroit 4-H Center opened on the city's east side, launching major Michigan 4-H urban programming initiatives.
The New Horizons program that held sessions all over the state, including Detroit, began. Its goal was to help launch "a better-informed citizenry and dozens of people better equipped to assume roles in public office, community organizations and leadership positions." (Olstrom and Miller)
1980s
Michigan hosts the annual National Association of Extension 4-H Youth Agents (NAE4-HA) Conference in Detroit providing opportunity to showcase innovative urban 4-H programming models.

1990s
Through its membership the Southeast Michigan Council of Governments (SEMCOG), MSU Extension works directly with local governments to train and provide resources for the state's leaders. SEMCOG serves the Southeast Michigan region, including Livingston, Macomb, Monroe, Oakland, St. Clair, Washtenaw and Wayne counties, as well as villages, towns, intermediate school districts and community colleges.
In partnership with the Greening of Detroit, founded in 1989, by Elizabeth Gordon Sachs, MSU Extension's educators have worked with youth and resident to help restore the city's tree infrastructure.
2000s
In 2009, when the recession hit Michigan, the state lost the most manufacturing jobs of any state, had the highest unemployment and falling median income, and lost more population. MSU Extension's educators played a role in helping people keep their homes in the face of foreclosures.
Since 2012, more than 11,000 people have received education and counseling from MSU Extension, with more than 66 percent of those who completed counseling able to keep their homes. Now MSU Extension is looking to have an even bigger impact in the Detroit area.

2010s
In 2010, Jim and Shelly Green, owners of Milton Manufacturing, began tearing down the burnt-out houses around their factory and replacing them with rows and rows of crops. They founded Pingree Farms. Eventually, they brought in animals and partnered with area 4-H clubs to provide a home for animals and a place for youth to learn about how to care for the animals.
2017
MSU Extension held their annual conference in Detroit to help celebrate 100 years in one of America's most iconic cities. Staff toured key landmarks throughout the city, including Belle Isle, D-Town Farms, Eastern Market, the Fox Theater, visited some of the city's key diverse cultural centers, and the celebrated Detroit Institute of the Arts.
2018
MSU Detroit Partnership for Food, Learning and Innovation is scheduled to open next year. This project represents a 20-year commitment to Detroit for Extension programming as well as research on urban agriculture and urban forestry issues. The facility should be fully operational next year.