MSU invention plays key role in award-winning product
A microbial fertilizer developed by MSU AgBioResearch scientist C.A. Reddy has been selected as one of the top products of the year by Popular Science magazine.
December 29, 2011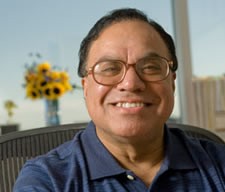 A new forage boost product – containing a revolutionary microbial fertilizer developed by a team of Michigan State University (MSU) researchers including AgBioResearch scientist C.A. Reddy – has been selected as one of the top products of the year by Popular Science magazine.
Forage Boost from Bio Soil Enhancers, Inc., is the recipient of a 2011 "Best of What's New" Grand Award. It earned top honors in the Green Technology category from the magazine for its positive environmental impact. A key ingredient in Forage Boost is SumaGrow, which was invented by Reddy, a professor in the MSU Department of Microbiology and Molecular Genetics, and Lalithakumari Janarthanam, a visiting microbiologist and plant pathologist.
SumaGrow is different from common fertilizers because it harnesses the power of non-genetically modified living microorganisms to improve the productivity of forages, hay crops, and a broad spectrum of grain and vegetable crops.
"SumaGrow reduces the need for chemical fertilizers by fixing atmospheric nitrogen, thereby reducing greenhouse gas emissions and lowering chemical pollution of soil and water," Reddy said. "Benefits also include improved disease resistance and increased phosphate availability."
Popular Science praised Forage Boost, projecting that it could possibly eliminate all other fertilizer use on the planet's 8 billion acres of pasture grass. It also states that Forage Boost helps to replenish microbes in overfarmed soil, increases productivity by locking nitrogen in the soil, breaks down organic waste into useful nutrients and decreases surface water runoff by about half.
The magazine reviews thousands of products in search of the top 100 breakthrough products and technologies.