MSU partners with Saudi agency to improve food safety
A network of food safety researchers and educators led by Michigan State University will soon be working with the Saudi Food and Drug Authority.
November 13, 2012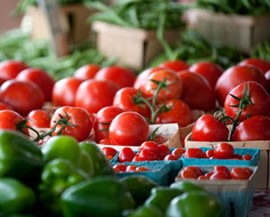 A network of food safety researchers and educators led by Michigan State University will soon be working with the Saudi Food and Drug Authority, a new Saudi Arabian government authority responsible for regulating the safety of food, feed and pesticides in addition to drugs and medical devices.
"This is an exciting opportunity to apply MSU's renowned international expertise in food safety to enhance Saudi Arabia's knowledge base and regulatory infrastructure," said MSU AgBioResearch scientist Frederik Derksen, also professor and chairperson of MSU's food science and human nutrition department. "Currently, at least 30 MSU scientists across 11 departments focus on food safety research – from pre-harvest food safety to food processing standards and policies – and nearly all have ongoing interdisciplinary research projects that have primed them for a collaborative, global initiative such as this."
MSU's new Saudi Arabia Food Safety Education-Training Initiative Office will coordinate several programs related to the effort, including:
Graduate education for Saudi Arabian food industry professionals

Professional development training for Saudi Food and Drug Authority professionals through short-term, intensive learning experiences and internships

Technical advising aimed at helping the Saudi agency improve its capacity to oversee food safety and expand their regulatory infrastructure

Guidance in helping the SFDA establish a regional food safety academy to continue building Saudi Arabia's capacity to its improve food safety and security

Collaborative research projects between MSU scientists and Saudi researchers focused on solving food safety issues relevant to Saudi Arabia, the Gulf Region and the world
"The partnership with MSU will help in increasing our capacity as a national food safety regulator," said Ibrahim Al-Mohizea, vice president of SFDA for food affairs and MSU alumnus. "We are hopeful that this initiative will have a positive impact on the safety of food not only in Saudi Arabia, but also in the whole region."
The initiative will involve several other U.S. educational institutions, nonprofit organizations, and food industry specialists, most notably the Global Food Protection Institute (GFPI), Battle Creek, Mich. The Institute, a nonprofit organization established in 2009, will deliver professional development training programs to Saudi Food and Drug Authority employees through their International Food Protection Training Institute.
"We look forward to this new partnership with MSU and SFDA to establish a Regional Food Safety Academy. The training programs delivered by the International Food Protection Training Institute will be essential for the vital role of protecting the food supply domestically and internationally," said Julia Bradsher, president and chief executive officer of GFPI.