MSU Southwest Michigan Research and Extension Center to host annual viticulture day
MSU AgBioResearch, the Michigan Grape Society and MSU Extension will co-host the 24th Annual Viticulture Field Day at the Southwest Michigan Research and Extension Center (SWMREC) from 9 a.m. to 5 p.m. July 31.
July 11, 2013 - Author: Holly Whetstone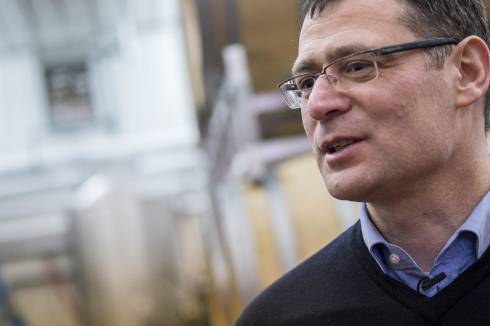 BENTON HARBOR, Mich. – MSU AgBioResearch, the Michigan Grape Society and MSU Extension will co-host the 24th Annual Viticulture Field Day at the Southwest Michigan Research and Extension Center (SWMREC) from 9 a.m. to 5 p.m. July 31.
The event features workshops on a variety of grape-growing topics presented by MSU researchers and Extension specialists.
Professor of entomology Rufus Isaacs will discuss managing leaf-feeding insects to maintain vine health and fruit quality. His work involves a five-year project on the potato leafhopper and Japanese beetle at the MSU AgBioResearch Trevor Nichols Research Center in Fennville. Participants will learn about insecticides that can be used to control the pests, as well as how to inspect for damage.
"This is all part of our efforts to give the growers access to the best information so they can make informed decisions to use the right products, prevent damage, and increase crop yield and quality," Isaacs said.
Assistant professor of horticulture Paolo Sabbatini will present a workshop on grape leaf removal. Grape clusters are directly influenced by heat and light, and the goal is to ripen the fruit as quickly and efficiently as possible with the best balance of flavors, aromatics, acid and alcohol.
"Removing the leaves around a cluster is a pivotal operation on high-density canopies to improve clusters' microclimate," he said. "Leaf removal reduces the chance of bunch rot complex diseases while improving fruit quality, color, flavor and mouth-feel components, often defined as 'technological maturity.'"
Sabbatini is researching the effect of early defoliation at bloom on Chardonnay and Pinot Noir varieties. Further research involves whether leaf removal could become mechanized and the impact of this operation on fruit quality when performed at different times during the growing season.
He will also discuss promising new grape varieties for Michigan growers. His research on this topic involves exploring new varieties of red wine grapes suited to Michigan's cool climate and short growing season. In general, white wine grapes perform better than red wine grapes in cool regions.
"My efforts are to study alternative red varieties that will produce consistently good quality red wines that will contribute to expanding the Michigan market share in red wines production, leading the demand from consumers in United States," he said.
New varieties are being tested and even grown by some groups and wineries across the state, including Black Star Farms in Suttons Bay.
"Michigan isn't as large a producer as California, which gives us the opportunity of being a niche industry," Sabbatini said. "I'm trying to develop niche varieties that will be our signature in the United States."
Associate professor of plant pathology Annemiek Schilder will discuss sustainable approaches to disease management, such as canopy management, sanitation, reduced-risk fungicides and biological control. Her research involves the diagnosis and biology of grape diseases, influences of weather on disease, disease thresholds and fungicide efficacy.
"I want to help growers understand that they can grow grapes with more environmentally friendly fungicides as well as fewer sprays and lower doses if applications are timed better," Schilder explained.
Other presentation topics:
Comparative evaluations of preemergence and postemergence herbicides in vineyards.
Managing excess vine size.
Trellis materials and construction.
Renovating old juice grape vineyards.
Estimating and adjusting juice grape crops.
A 21st century model Concord vineyard.
Presentations will also be given by:
Diane Brown, Extension educator.
Bernie Zandstra, professor of horticulture.
Tom Zabadal, professor of horticulture.
Jenny Wells, SWMREC research technician.
Dave Francis, SWMREC farm manager.
Todd Robbins, vineyard manager from Fenn Valley Winery.
Mike de Schaaf, winemaker from Hickory Creek Winery.
Ed Oxley, owner of Oxley Vineyard in Lawton.
Steve Tomac, viticulturist from the National Grape Cooperative.
Terry Holloway, viticulturist from the National Grape Cooperative.
The field day includes a trade show, vineyard workshops, equipment demonstrations and a Lake Michigan wine showcase. The event concludes with an evening steak cookout.
For more information, including directions, registration and an agenda, please visit the SWMREC website at agbioresearch.msu.edu/centers/swmrec.
MSU AgBioResearch engages in innovative, leading-edge research that combines scientific expertise with practical experience to generate economic prosperity, sustain natural resources, and enhance the quality of life in Michigan, the nation and the world. It encompasses the work of more than 300 scientists in seven MSU colleges -- Agriculture and Natural Resources, Arts and Letters, Communication Arts and Sciences, Engineering, Natural Science, Social Science and Veterinary Medicine -- and has a network of 13 research centers across the state.
Since its beginning, Michigan State University Extension (MSUE) has focused on bringing knowledge-based educational programs to the people of the state to improve lives and communities. Staff members, in concert with on-campus faculty members, serve Michigan citizens with programming in food and agriculture production, nutrition and food safety, community and natural resources development, youth development and renewable energy. Today, MSUE's goal remains the same: to give Michigan residents meaningful access to the latest life-changing research.