Patent-pending bacterial strain shows impressive results on veggies
Michigan State University (MSU) AgBioResearch scientist Jianjun Hao has identified a bacterial strain that holds great promise for agricultural growers, especially those with potato and soybean crops.
December 17, 2012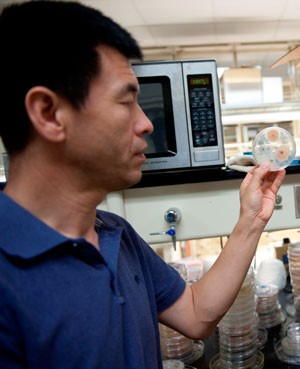 A Michigan State University (MSU) AgBioResearch scientist has identified a bacterial strain that holds great promise for agricultural growers, especially those with potato and soybean crops.
Jianjun "Jay" Hao, assistant professor in the MSU Department of Plant, Soil and Microbial Sciences, has found that Bacillus amyloliquefaciens (strain BACO3) not only shows strong antimicrobial activity against many major soil-borne pathogens but promotes plant growth and induces plant disease resistance.
"In our studies, we found that this naturally occurring beneficial organism [BACO3] is very strong in inhibiting multiple pathogens, not only with theStreptomyces species that causes potato scab but with many other soil-borne plant pathogens," he said. "Although we found it in a potato field, it's not just effective in potato -- it can be applied to crops such as soybeans, peppers, squash and pumpkins because it also targets Phytophthora capsici, a major pathogen of those vegetables, and other plant pathogens."
Results of his greenhouse and field studies have been so impressive and well-received by Michigan soybean and potato growers that Hao submitted a patent through MSU Technologies for BACO3. He hopes to hear on its acceptance from the U. S. Patent and Trademark Office sometime within the next two to three years.
"Ultimately, the rights could be sold to a company that would reproduce the bacterial strain, market it – most likely under a new name – and make it commercially available to growers," Hao said.
One distinct advantage of BACO3 is that it can be used as a fertilizer to help enhance plant health, especially when there is a relatively minor pathogen problem, Hao said. Preliminary data show that, if the bacteria are applied to the roots, the plant can acquire systemic resistance to the pathogen.
"BACO3 could eliminate the need, in some situations, to spray chemicals," he said. "For instance, there is no effective chemical control for the common potato scab. There are some, but either they are not effective or they pose environmental concerns."
Hao's studies show that BACO3 is more effective than PCNB (pentachloronitrobenzene), a broad spectrum fungicide used for the control of potato scab.
"The Environmental Protection Agency has found that PCNB doesn't degrade quickly and accumulates in the soil as a pollution source," he said. "Its use was abandoned for a short time, but it was reregistered because of a lack of scab control methods. BACO3 is better than PCNB in suppressing the disease. It actually does a better job with less toxicity and higher efficiency."
Another benefit to this bacterial strain is that it's tolerant of extreme weather conditions – specifically, high temperatures and dry conditions – and this will extend the shelf life of future products, Hao said.
"I have worked on several biologically based products, but I really like BAC03," he said. "Many plant pathologists believe that we should take care of the health of the whole plant. We don't deny the need for chemicals -- they are still a key product. As we strive for a better quality of life, however, we want to move more toward organic production. This sector is growing, and it requires biobased materials."
Hao admits, though, that biological control is not a perfect remedy.
"Biological controls are certainly not 100 percent of the answer," he said. "It's very challenging to develop these types of products because there are several stages that occur from the lab to the field to the end user. We also need to better educate growers about under which conditions to spray, when to spray and what type of product to use. There are a lot of variables, and they're not consistent, but with a product like ours – BACO3 – we can better predict its efficacy because it has a stable life format that is easy to store and easy to apply."
The bacterial strain was discovered with the assistance of postdoctoral researcher Jingfang Yin. The BACO3 was found in the soil Hao sampled from an MSU potato plot on the corner of Mt. Hope and Hagadorn roads. The land has also been used by MSU professor and potato breeder David Douches for the last 25 years. Douches was screening for resistant varieties and needed high disease pressure but, surprisingly, wasn't getting it, Hao said.
"Somehow the disease incidence was getting lower and lower," Hao said. "When I arrived at MSU in 2006 and learned about this plot of land, I said, 'Wow, this land might be bad for the breeders, but it's perfect for me.'"
Postdoctoral researcher Noah Rosenzweig and doctoral student Qingxiao "Michelle" Meng analyzed the soil by using a new process, next generation sequencing technology. The process enabled them to analyze and identify the whole soil community by examining just 1 gram of soil.
"This technique is really amazing, because you can extract the DNA and analyze it, even in a soil mixture with millions of species," Hao said. "The gene sequencing is more precise and powerful."
Though Hao is working to help manage soil-borne pathogens, he added that some pathogens could benefit the ecosystem.
"Some pathogens need to stay," he said. "I believe that some of these microorganisms play vital ecological roles that we don't know about – at least not yet."