Placemaking: Fueling Detroit's resurgence
Placemaking is proving to be a successful approach to urban planning by reviving cities from post-industrial decline and Detroit has many examples to share.
February 20, 2015 - Author: Mohamed Ayoub , Michigan Citizen Planner graduate and Brad Neumann, Michigan State University Extension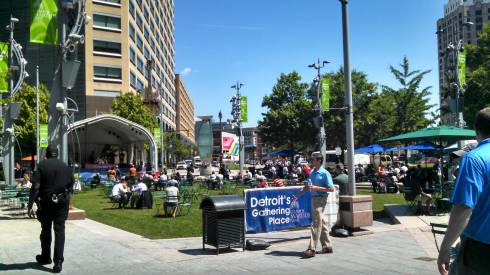 Urban planners are constantly searching for innovative ways to create more attractive and efficient cities. In major cities across the world, planners are adopting placemaking and using it as a tool to catalyze environmental, economic and social revival. Jane Jacobs and William H. Whyte coined the concept back in the 1960s. Quite briefly, it is the idea of creating or improving public places in the heart of a community to encourage deep interactions between people and the places around them. Placemaking relies on these 11 principles, as well as other techniques to create lasting visual and emotional connections. The result is typically a number of amenities for residents to enjoy, including but not limited to:
Retail shopping
Outdoor cafes
Food trucks
Lawn games
Art installations
Movie screenings/concerts
Bonfires
Children play areas
Fountains
Placemaking concepts have been applied, to a limited extent, in Detroit. In 1998, public-private partnerships revived Eastern Market. Today, people come to the market to sell their goods in a space they rent from the Eastern Market Corporation. In a city that already lacks grocery stores and food access, Eastern Market creates a vibrant and diverse marketplace while addressing a pertinent urban issue. Annually, the 43-acre business entertains around 45,000 visitors and 250 vendors (read more at Places in the Making).
Another example of placemaking in Detroit comes from a proposal submitted by four Urban Planners from Wayne State University, "Woodward Park." Woodward Park seeks to restructure the Woodward Corridor between Campus Martius and Grand Circus Park. The goal is to create a pedestrian mall. In theory, by uniting pedestrians and encouraging community interaction in the form of a mall, economic activity will increase, and detrimental social issues plaguing the city will decrease.
A final example of placemaking in Detroit is Campus Martius, a 2.5-acre park in Detroit's entertainment district. In 2010, Campus Martius was named one of the top ten public spaces in the country by the American Planning Association. The park provides a public area for people to enjoy themselves during a variety of community events. It is also host to some of the city's most popular activities, including the Meridian Winter Blast, and ice skating beside a 10,000-pound LED-lit Christmas tree that soars 60 feet into the sky.
As placemaking continues to gain national ground, Detroit is beginning to make strides of its own. The goal is to strategically use this method to surge into the new century and reconnect citizens, facilitate economic development, and attract new investors to the area. The result is not merely a public place. Rather, it is an embodiment of what that city represents. Every place is part of a complex puzzle, a fragment of the spine, a beat in the rhythm that makes up the pulse of a city—and creating that effect is essential to community success in the New Economy.
This article was written in partial fulfillment of the Michigan State University Extension Master Citizen Planner credential.