Smart soils, pollinators and plants at Kiwanis Noon Home and Garden Show
Attend free Smart Gardening presentations, win garden door prizes and learn how to help native pollinators in your backyard at the Kiwanis Noon Home and Garden Show April 7-9, 2017, in Escanaba.
March 22, 2017 - Author: Rebecca Krans, Michigan State University Extension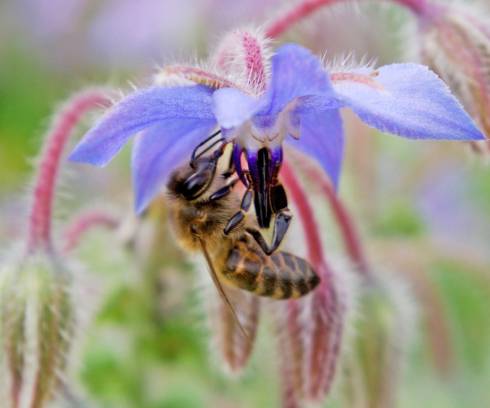 Plan now to attend Michigan State University Extension's free Smart Gardening presentations at the Kiwanis Noon Home and Garden Show/Pancake Feed April 7-9, 2017, in the Ruth Butler Building of the Upper Peninsula State Fairgrounds, 2401 12th Ave. N, Escanaba, MI 49829. Show times run 5 – 8 p.m. Friday, 9 a.m. – 7 p.m. Saturday and 9 a.m. – 2 p.m. Sunday. Topics provide something for everyone, from beneficial insects and bees to smart plants, smart soils, square foot gardening and season extension. New this year will be sessions on April 8 tailored especially for families and children, with a bee activity at 1 p.m. and "Gardening with Children" at 5 p.m.
Anyone attending the presentations has a chance to win garden-themed door prizes such as free plants, tools, gift certificates and local food/wine gift baskets. Other items such as a power tool kit, tool sharpening kits, splitting tools and a drip irrigation kit will be part of a silent auction and on display until noon Sunday, April 9.
Presentation schedule
Friday, April 7
5:00 – 5:30 p.m., Marvelous Mimics – Natural insect enemies and our allies
5:45 – 6:15 p.m., U.P. Beekeeping
7:30 – 8:00 p.m. , Smart Plants with Hydrangea paniculata 'RENhy' Vanilla Strawberry
Saturday, April 8
9:00 – 9:45 a.m. , Don't guess – Soil test!
11:00 – 11:45 a.m., Trash to Treasure – Recycling items for creative containers
1:00 – 1:45 p.m., Help a Bee, Help me! – A family, kid-friendly activity about pollinators
3:00 – 3:45 p.m., U.P. Beekeeping
5:00 – 5:45 p.m., Starting small – Easy steps to start gardening with children
6:00 – 6:45 p.m., Wonderfully Wild and Naturally Native – Ways to support and protect our natural insect allies
Sunday, April 9
9:00 – 9:45 a.m. , Introduction to Backyard Beekeeping
11:00 – 11:45 a.m., Season Extension – Hoophouses
1:00 – 1:45 p.m., Square Foot Gardening
See the full list of presentations and door prizes or visit the Escanaba Kiwanis Home and Garden Show website for more information.
Other opportunities and resources at the show include a Smart Gardening informational booth that has free tip sheets on smart plants, smart soils, smart lawns, smart vegetables, smart gardening for pollinators, smart gardening for monarchs and smart gardening to deter deer. Master Gardeners trained in Smart Gardening outreach will be on-hand to assist with Smart Gardening questions. Also, at the bottom of every hour throughout the show, Master Gardeners and trainees will present mason bee hotel demonstrations and provide free bee hotels to attendees (while supplies last; compliments of local sponsors).
Registration for the Smart Gardening events is not required. Admittance to the Home and Garden show is free, and Pancake Feed tickets are available for purchase in support of Kiwanis.
For more information on a wide variety of Smart Gardening topics, visit the Gardening in Michigan website or contact MSU's Lawn and Garden Hotline at 1-888-678-3464.
---