Southeast Michigan vegetable regional report – September 3, 2014
As harvest continues, rain events and humidity have been very conducive for disease development. Late blight of tomatoes and potatoes was confirmed in the area.
September 3, 2014 - Author: Lina Rodriguez Salamanca, Michigan State University Extension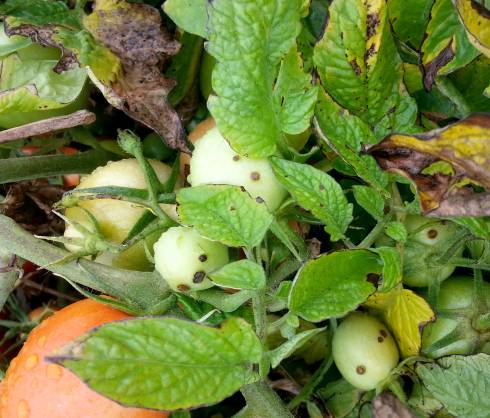 Weather
In the last two weeks, drier weather with partly cloudy to cloudy days has been predominant. Some precipitation was experienced in the area with 2.02 inches of rainfall recorded at the Michigan State University Commerce Township Enviro-weather station while the Hudson Enviro-weather station recorded only 0.02 inches. The average for the southeast Michigan stations was 1.02 inches.
Based on the data from the Petersburg Enviro-weather station, air temperatures ranged from 53 to 90 degrees Fahrenheit and up to 14 humid hours were recorded in dry days. Based on the five-year average, we are currently behind by 116 growing degree days (GDD) base 50.
Rainfall and regional GDD for the southeast region via MSU Enviro-weather
| | | | | |
| --- | --- | --- | --- | --- |
| Station | Rainfall total (in) | GDD42 | GDD45 | GDD50 |
| | 0.43 | 3,258 | 2,829 | 2,165 |
| | 2.02 | 3,024 | 2,603 | 1,950 |
| | 1.62 | 3,195 | 2,768 | 2,102 |
| | 0.02 | 3,255 | 2,831 | 2,171 |
| Average for region | 1.02 | 3,183 | 2,757 | 2,097 |
Weather outlook
Temperatures are forecasted to range from 53 to 90 degrees Fahrenheit over the next week, with high temperatures over 85 F in the next two days and cooler days of around 70 F afterwards. Rain is in the forecast with chances ranging from 43 to 57 percent for Sept. 5-6.
Vegetable crops
Harvest of sweet corn continues while insect activity has increased. In the last week, 38 corn earworm moths and six fall armyworm moths were caught in the Monroe County traps, while no European corn borers were caught. The risk for western bean cutworms continues to be forecasted as moderate to in our area, according to www.insectforecast.com.
Tomato and pepper harvest continues while symptoms of white mold were observed in some fields with hotspots of this disease in the past. Cercospora leaf spot was observed on peppers and disease severity has increased in fields with bacterial spot with abundant symptoms in green fruit.
Late blight of tomatoes and potatoes was confirmed in Monroe County. Michigan State University Extension recommends continuing protecting crops with appropriated fungicide spray for tomatoes and potatoes, and to scout and report symptoms to your local MSU Extension educator. Potato fields are senescing and closing tubers, while harvest of mature potato fields continues.
Pumpkin and squash fruit continue to develop, while powdery mildew and angular leaf spot severity continue to increase. Symptoms of Septoria on pumpkin fruit have started to appear as pumpkin fruits turn orange.
Cabbage harvest continues. Some fields will not be harvested due to significant incidence of soft rot and white mold. Also, edges of fields planted close to wheat had significant thrips damage that rendered the cabbage heads unmarketable. Fall planting of lettuce, broccoli, cauliflower, cabbage, mustards green and kale continues.
For more information on commercial vegetable production, contact Lina Rodriguez Salamanca at 517-264-5310 or rodri408@anr.msu.edu.
---