Studying plant resilience in the face of climate change
The MSU Plant Resilience Institute is studying plants' ability to adapt to a changing climate.
November 7, 2016 - Author: Cameron Rudolph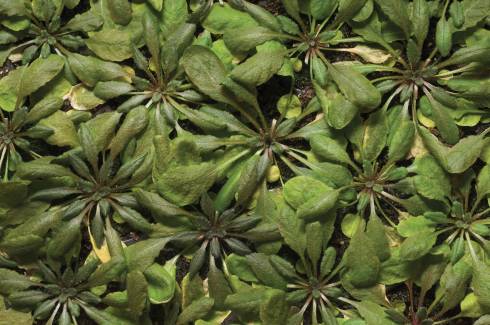 In 2015, Michigan State University (MSU) unveiled The Global Impact Initiative, a strategic plan to tackle some of the world's most pressing challenges. The plan calls for the addition of 100 new faculty members in education, energy, the environment, food and health, and encourages current faculty to submit proposals to enhance research that builds upon MSU's strengths.

Michael Thomashow, a University Distinguished Professor in the Department of Plant, Soil and Microbial Sciences, saw this as an opportunity. He solicited the assistance of fellow MSU plant science experts Gregg Howe, Brad Day and Sheng Yang He to develop a project that addresses the growing world population's need for more food produced with fewer resources under increasingly difficult conditions.

Together, they drafted a plan for the Plant Resilience Institute (PRI), where scientists will use basic research to pinpoint the biological mechanisms that stimulate plant resilience — the ability to adapt to stress caused by pressures from the climate and the environment, among others. Gaining this understanding will be crucial to increasing crop yields. The MSU Board of Trustees approved the PRI concept in April 2016.

"The challenge went out from MSU administration to propose ideas that take our research to the next level," said Thomashow, who serves as director of the PRI. "Producing the amount of food needed to feed 9 billion people by 2050 just isn't possible using only the current tools. We need to be innovative and develop some new approaches. We have a fantastic group of plant scientists at MSU, so taking on a challenge like this seemed like a natural fit."

The group has added C. Robin Buell, Thomas Sharkey, Ashley Shade and David Lowry, all faculty members from the College of Natural Science. This past summer, the inaugural research under the PRI umbrella began. The objective of the institute is to be flexible and responsive to emerging issues facing agriculture.

Plants encounter biotic stresses such as pathogens and pests, and abiotic stresses ranging from extreme temperature to drought. Thomashow indicated that these abiotic threats are intensifying because of climate change, which is having a devastating effect on plants' built-in defenses. To combat this, the researchers have identified three areas of emphasis for the PRI's initial work:
High temperatures have a harmful effect on plant processes, but how plants will perform in and adapt to an increasingly warmer world remains unknown.
Plants, just like humans, are intimately associated with microorganisms that have a profound influence on their physiology. Researchers want to determine what functions the microbes serve and how they help promote plant resilience to environmental challenges.
Legumes are essential to nutrition and healthy diets around the world. The PRI will conduct research to identify mechanisms of stress tolerance that can be used to improve legume varieties to better adapt to changing climate conditions — less water and land, and rising temperatures.
"The breadth of plant science research at MSU provides a tremendous opportunity to work collaboratively to find new solutions to meet the demands for food and other plant-based products,"
said Howe, the associate director of the PRI. "Much of what we think about farming is focused on what goes on above ground, but we want to really delve into what happens below ground at the molecular level. That will tell us more about how plant-microbe associations fend off a whole host of potential problems."

Funding for the PRI is currently provided by MSU AgBioResearch, the College of Agriculture and Natural Resources, the College of Natural Science and the Global Impact Initiative. Researchers aim to turn the initial seed support into external grants once projects have made progress. Along with doing research, Thomashow and Howe will be hiring new faculty members over the next few years as part of the Global Impact Initiative, and providing overall administration and identifying technology needs for the PRI.

"The university has made a very significant investment into this institute," Thomashow said. "We've received funds to purchase specialized growth chambers that allow us to simulate various climate situations, as well as the latest technology in genomics. And adding new faculty members with expertise in areas that complement our current researchers will bolster our plant sciences program even further.

"We're building on a long history of excellence at MSU with the introduction of research institutes that have grown to international acclaim. We already have great agriculture and plant science programs here, and we want MSU and the Plant Resilience Institute to be a destination for scientists to come and solve some of the critical problems of our time."
---