Temple Grandin inspires students while visiting MSU
Michigan State University students, staff and the general public recently had the opportunity to learn from Temple Grandin.
March 17, 2014 - Author: Julie Thelen, Michigan State University Extension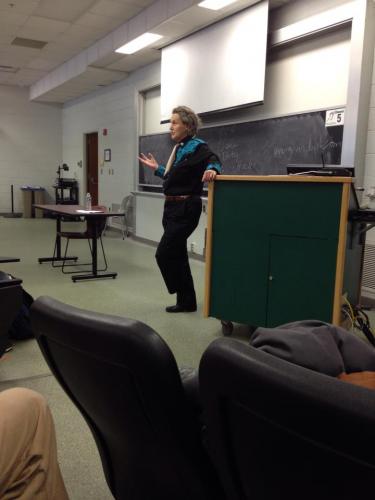 Animal welfare was a hot topic on the campus of Michigan State University (MSU) during the week of March 10, 2014. Although animal welfare is always a top priority, that week had an extra push: Dr. Temple Grandin, professor of Animal Science at Colorado State University, was visiting the campus. The most visible event was the public seminar held Tuesday, March 11 for a capacity crowd in Anthony Hall on the campus of MSU. The seminar, titled "Making Decisions about Animal Welfare and Food: Is Big Always Bad and Small Always Good," left the whole audience thinking and many youth inspired.
After the seminar, Andrea Meade, MSU animal science senior, stated "It was really great of her to take time out of her busy schedule to share her experience with people who are going to make up the agriculture industry in the future." Andrea was just one of many that packed the lecture hall, creating a diverse audience that included teachers, livestock producers and students of all ages. Numerous youth representing 4-H clubs and FFA chapters were also visible during the public seminar.
Dr. Grandin spoke on a variety of topics, including survey statistics, the Five Freedoms, humane slaughter practices, guidelines for auditing welfare and more. During the presentation, she shared the importance of traveling to learn how others around the country and world manage. Dr. Grandin also stated the agricultural industry needed to work better together, communicating more clearly, because those involved in smaller agricultural production can help those involved in larger production practices, and vice versa. Dr. Grandin also stressed the importance of opening up the agricultural production doors to be more visible and transparent with animal agriculture production practices.
Sara Bronkema, a MSU animal science junior, shared after the seminar, "Dr. Grandin is a really influential person and is using that to better the world." Many attendees left inspired and continued the conversation afterwards by posting on social media. "You find your passion by being exposed to things. If you want students to get interested in stuff, you have to show them interesting stuff!" and "I made the mistake of thinking everything can be solved with a thing (equipment), but really it's the management" were just a few of the Dr. Grandin quotes posted online. The seminar was sponsored by the MSU Animal Behavior & Welfare Group, Residential and Hospitality Services and Residential Initiative on the Study of the Environment (RISE).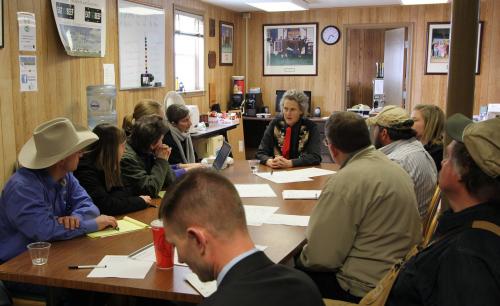 Although the seminar was the most visible event during the week, MSU students and staff also had a chance to hear from Dr. Grandin in smaller settings as she took time to speak to numerous classes during the week. One class was ANS 401: Issues in Animal Agriculture, were she spoke in front of students including MSU animal science senior Courtney Doan. Doan reflected on the opportunities by stating, "I was honored to even get the chance to be in the same room as her, let alone have the opportunity to hear her in class and listen to her at the public seminar."
Wherever they heard her, Dr. Grandin's remarks proved to be thought-provoking for students across campus. MSU animal science junior Garrett Slavik commented, "It was great to hear her perspective on various topics within animal agriculture," while other students found her opinions somewhat challenging. This was particularly true of her perspective on the concept of focusing on what's optimum, not maximum in livestock production: "I think of animals as a country," commented Grandin. "If you invest into production, egg, meat, milk, you don't have anything left for military (reproduction)."
Now even a week after her visit, Dr. Grandin continues to challenge MSU students, as well as those that attended her public seminar, by inspiring deep conversations about animal welfare.
For more information about Temple Grandin, visit www.grandin.com. For more information about animal welfare, follow Michigan State University Extension educator Melissa Elischer's series: Animal Welfare for Youth.