Unique ways to prepare for a future in agriculture
Learn ways we are helping educate the general consumer, youth and undergraduate students for their future relating to agriculture in non-traditional ways.
March 4, 2016 - Author: Julie Thelen, Michigan State University Extension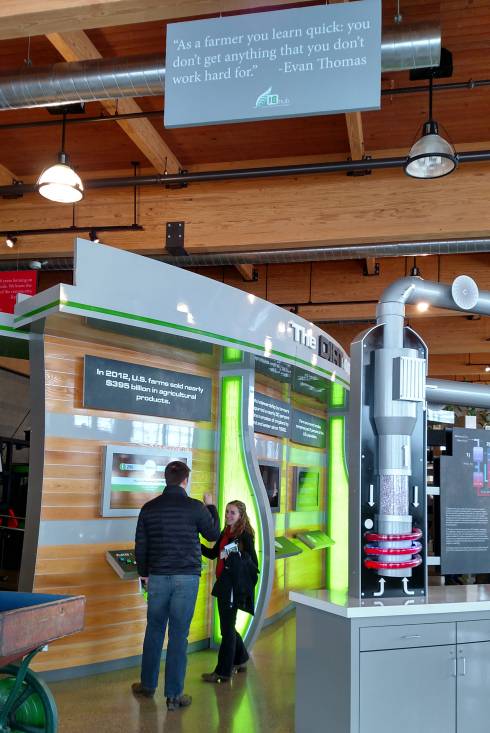 Although none of us know what exactly the future will hold, we do know agriculture can and will hold true. While attending events like the Michigan 4-H Beef, Sheep and Swine Teen and Adult Leaders Workshop and Lansing Legislative hosted by Michigan Farm Bureau, we are reminded of the many opportunities to be actively engaged in agriculture now and in the future.
With less than two percent of the population directly linked with modern agriculture according to North Carolina State University, there is disconnect between most consumers and the professionals producing food. This small percentage leads to another issue – not enough skill individuals to fill the careers in agriculture. According to USDA's National Institute of Food and Agriculture, in May 2015 employers had 57,900 job openings in agriculture and related fields and only 35,400 potential undergraduate students available to fill them. With this known shortage, as well as continued growth in the agricultural sector, there remains a disparity between available jobs and skilled graduates to fill them. A renewed focus on developing a skilled workforce able to fill these careers must be a high priority moving forward.
Additionally, agricultural technologies allow us to produce more with fewer resources, necessitating recruitment and education not only for the next generation, but also continuing education for those currently engaged in agriculture. To help address this need, organizations like Michigan State University Extension, Michigan Farm Bureau and other partner organizations are identifying and creating opportunities of continued education for youth and adults. Private companies are also reaching out to young adults and offering opportunities for internships with applied learning.
A renewed focus on developing a skilled workforce able to fill these careers must be a high priority moving forward. Leading the way in bridging the gap between consumers and producers with agricultural education is AgroLiquid in St. Johns, Michigan. The need to better inform the community about agriculture was identified and was the drive to create the IQ Hub. This hub is a culmination of the Bancroft family's vision combining history, innovation and exploration for youth and adults. Open Monday through Saturday most of the year, the IQ Hub is an interactive learning station for everyone to better understand the history of food production and look to its exciting and evolving future. Innovative opportunities like the IQ Hub will continue to be a part of production agriculture and tell our agricultural story.
The IQ Hub and other agritourism locations around the state has wonderful opportunities for non-formal science education, but that does not replace the need for technical and collegiate classes to inform the next generation of agricultural leaders. Young people have limitless opportunities to create a career in agriculture. Michigan is proud to be the second most diverse agricultural producing state, providing numerous career options for young adults to be employed in production agriculture, agribusiness, education, communication and much more.
Jessica Kiesling, MSU Department of Animal Science academic specialist, recently shared her advice for preparing for future careers with the 134 attendees at the Michigan 4-H Beef, Sheep and Swine Teen and Adult Leaders Workshop. Kiesling reminds us, "Develop yourself as a learner, leader and loser. Learner: Explore opportunities to increase your knowledge about interest areas and yourself; ask questions and listen. Leader: Be the example for others – take on new projects, set goals, take risks. Loser: Set goals for yourself that require you to take a risk; when you lose, find the lesson. Developing yourself in these areas will help you identify your strengths and interest areas, which will help you make a sound educational choice, and also makes you an attractive employee."
In addition to sharing important messages at the 4-H level, we need to make sure to also reach current undergraduate students. Lansing Legislative attendee and current MSU Collegiate Farm Bureau member Abby Carpenter sees an exciting future in Michigan agriculture. She states, "My personal interests are in specialty crop production and agritourism. There is a huge opportunity for farmers to share their livelihood with consumers and to potentially help close the gap between the people who grow food and the end consumer. My family's farm opened up to the public in 2008 with a fall agritourism business and it has been amazing to see our community's interest in our farm and in agriculture in general blossom over the past couple of years. Whether it is on my own farm or another ag-related event, I am always looking for opportunities to share my passion for agriculture and I encourage other farmers to do the same."
With enthusiasm at all levels, Michigan is posed to have a bright future in agriculture by continuing to build a skilled and talented future workforce aware of the challenges in modern day agricultural production.