Upper Peninsula gardeners benefitted from Smart Gardening program
Protecting pollinators, composting and tools of the trade were the focus of a recent Smart Gardening program, the Escanaba Kiwanis Noon Home and Garden Show, for Upper Peninsula gardeners.
April 18, 2016 - Author: Rebecca Krans, Rebecca Krans, Michigan State University Extension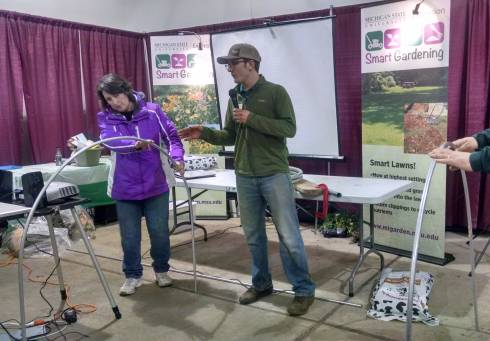 Upper Peninsula gardeners recently benefitted from a Michigan State University Extension Smart Gardening program at the Escanaba Kiwanis Noon Home and Garden Show at the Upper Peninsula State Fairgrounds on April 8-10, 2016. Along with a smart gardening informational booth, attendees could choose to attend any of the 13 different Smart Gardening presentations, create a mason bee hotel to take home and win numerous garden-themed door prizes contributed by garden show sponsors.
Escanaba Kiwanis Noon board members reported an approximate show attendance of 4,516 people. Seventy-three people attended the smart gardening presentations offered through the entire show. These included: Smart Care and Selection of Hydrangeas by Dave Gafner; Smart Gardening Vertically with Pallets and Smart Gardening for Pollinators by me; Smart Gardening with Compost, Smart Gardening with Worm Castings, Smart Gardening with Youth and Get the "Smart" Mix For Your Growing Needs by Brad Morgan, CEO Morgan Composting; Starting Small by Liz Slajus, Upper Peninsula consumer horticulture support and Master Gardener; Smart Tools of the Trade and Smart Gardening with Season Extenders by Collin Thompson, North Farm Manager; and a garden hoe demonstration by Matt Hansen.
Master Gardener volunteers were on-hand to provide all of the 25 free smart gardening tip sheets and resources to booth visitors. Twenty-four visitors from five different Upper Peninsula counties signed up to receive future smart gardening information and notification of future gardening events. Advanced Master Gardeners and trainees were also on-hand to help and create mason bee hotels for visitors to take home and put up in their yards or gardens to create a nesting place for these important native pollinators. A total of 140 mason bee hotels were given out. Advice on how to care and maintain the bee hotel, as well as the new smart gardening for pollinators tip sheets were provided to visitors.
A number of different garden hoes were also on display for booth visitors. Attendees at each of the smart gardening presentations had the opportunity to win garden-themed door prizes that included a local wine/cheese/chocolate gift basket, garden tools and much more. Please check out the full list of contributors at the Escanaba Kiwanis Noon website.
For more information on a wide variety of smart gardening topics, visit the Gardening in Michigan website or contact MSU's toll-free garden hotline at 1-888-678-3464.
Tags: home gardening, lawn & garden, msu extension
---