West central Michigan vegetable update – July 19, 2017
Foliar disease in carrots is starting early, and cucurbit diseases are appearing.
July 19, 2017 - Author: Ben Werling, Michigan State University Extension
In asparagus, 10-14 disease severity values accumulated between July 10 and 17 at four Michigan State University Extension sensors in Oceana County. Extensive purple spot lesions were present on main stems in some fields, so keep on top of foliar fungicide programs.
Fungal foliar disease in carrots caused by Alternaria dauci and Cercospora carotae was developing in some Oceana County fields Monday, July 17. Herbicide injury was also present, and one field had herbicide injury and disease symptoms. How can you tell which is which?
Injury from metribuzin can produce extensive "bleaching" or chlorosis of older leaves where soil uptake has happened, and is one clue herbicide injury has occurred. However, herbicide injury and disease can cause browning and death of foliage. One clear set of symptoms caused by fungal diseases, and not by herbicides, are elliptical, brown lesions on the petiole.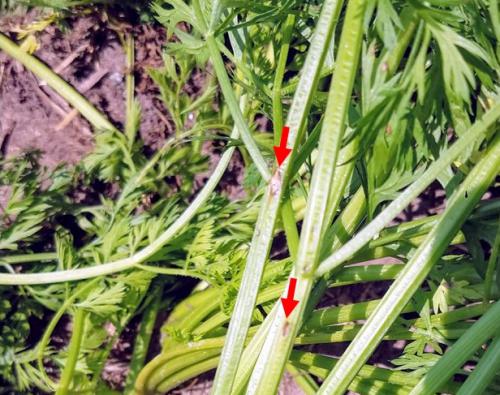 Our arsenal of fungicides now includes protectants such as chlorothalonil and copper, the strobilurin (FRAC group 11) fungicides Quadris and Cabrio, and products that are mixtures of group 7 and 11 fungicides such as Merivon and Luna Sensation. Of these, trials and grower experience showed Merivon is a very effective fungicide. How can you decide when to spend the money on an application of a highly effective product like Merivon?
One way to do so is to use disease severity values (DSV) from in-field weather sensors and the TomCast disease forecasting system. These DSVs range from 0-4, and are higher when weather is most favorable for disease (long periods of leaf wetness with temperatures in the upper 60s or higher). During weeks with especially favorable weather for disease, you may see a string of 3s or 4s a few days in a row. This is one cue it could be time to consider a highly effective product like Merivon. Other times, you could alternate applications of a protectant (e.g., chlorothalonil plus copper) with a strobilurin.
For the strobilurins, MSU plant pathologist Mary Hausbeck says it's important to mix them with a protectant such as chlorothalonil. Also, the Merivon and Luna Sensation labels require rotation with a non-strobilurin fungicide.
Powdery mildew is now present in west Michigan cucurbits. Phythopthora capsici has also been causing plant death from leaf and petiole infections, and there have been reports of fruit rot.
How might you use fungicides to limit Phytophthora capsici leaf blight, petiole blight or fruit rot? Orondis Opti is an effective product that could be used in a first application to protect foliage and fruit. If there is a high risk of further disease development, it could be followed by another application of Orondis (see label restrictions) or applications of products like Presidio and Revus.
Things to note with Orondis are that it stays at the application site and does not move well into the soil or within the plant, and it has decent residual activity. For label restrictions, the federal label requires it not be used in more than 33 percent of the total foliar fungicide applications. So, if you made four foliar fungicide sprays and two contained Orondis, this would be an off-label use. However, a Michigan 24c Special Local Need Label for Orondis does allow for up to two sprays of Orondis if two or fewer total foliar fungicide applications are made.
For fruit and crown protection, applying any of these products should be made with 30-50 gallons per acre of water. One option is to confirm coverage with water-sensitive cards placed on fruit and foliage. You can then vary gallons per acre of water in a water-only spray (e.g., by varying your travel speed) and see how it affects coverage.
Thrips populations in onions are definitely present. This is a good time to apply Radiant if you have not already. For Radiant, research has shown the maximum rate is not necessary to achieve control. Read the label and apply an appropriate, penetrating surfactant.
In peppers, the second flight of European corn borer is predicted to begin this week based on the weather models at the Hudsonville Enviroweather station.
In sweet corn, I continued to capture low numbers of corn earworm moths in an Oceana County trap Monday, July 17, as has a cooperator in Kent County. At these captures, tightening spray intervals to less than five days for silking corn is not necessary. At low pressure, data from Ohio State University has suggested a high rate of a pyrethroid could still be helpful.
Western bean cutworm moths were also captured again this week in an Oceana County trap. Corn just about to tassel is most at risk. Applying a pyrethroid when eggs are hatching and corn is tasseling can help control this pest. Corn earworm spray programs should also control western bean cutworm if they begin promptly at silking.
---