West central Michigan vegetable update – July 26, 2017
Last weekend was conducive to foliar disease development, but cooler and drier weather is on the way.
July 26, 2017 - Author: Ben Werling, Michigan State University Extension
Weather update
The forecast for tomorrow, July 27, through next week calls for cooler and drier than normal weather. A cold front will cross the state in the next 24 hours. This front brought rain overnight last night in the north and more could come as it crosses. The greatest threat of rain will be in the northern and central part of lower Michigan. Areas that do see rain could see 0.25-0.5 inch totals, though most places will see less. After this frontal system moves through the state midday Thursday, the weekend and most of the next work week is expected to be dry.
Today is likely going to be the warmest day of the next week with cooler temperatures arriving with a Canadian origin air mass. Once it arrives, highs should in the mid-70s in the north, with lows dipping into the 50s or even the upper 40s far north. The next two weeks typically see the warmest weather of the summer, so this cool weather will slow degree-day accumulations.
The medium range guidance through the first week of August calls for normal to below-normal mean temperatures and precipitation. Models suggest that by mid-August, we could see movement to warmer temperatures with more precipitation.
Crop update
In asparagus, 10-13 disease severity values accumulated between July 18 and 24 at four Michigan State University Extension sensors in Oceana County. High nighttime temperatures and rainfall this past weekend were favorable for disease development. Purple spot lesions were present on cladophylls in two fields I visited.
If you are considering making an additional application of nitrogen to asparagus, now is about the latest you would want to do this. Applying nitrogen past this point in the season could stimulate parasitic fern growth. This happens when shoots develop late in the season and are frost-killed. This means the energy invested in these shoots is not recovered to the crown.
In carrots, 14 disease severity values accumulated between July 18 and July 24 in one Mason County field with an MSU Extension sensor. Symptoms of aster yellows were visible on a low percentage of plants in one field I visited, and included bronzing of leaves and hairy roots. We are now getting past the time period when aster leafhopper activity is high.
Scouts report aster leafhopper numbers have been low in celery. Variegated cutworm moth captures have been ongoing in pheromone traps, but variable by site. Caterpillars were found in the heart at one location. Baythroid (zero day pre-harvest interval, active ingredient β-cyfluthrin) and Brigade (seven day pre-harvest interval, active ingredient bifenthrin) are labelled for control.
Aphid colonies were just starting to form in Newaygo and Van Buren counties this week. Movento (three day pre-harvest interval) can be applied with a penetrating surfactant to provide control. Celery leaftier has also been present at low levels in the region.
Carrot weevil was present last week in Ottawa County. This pest is a specialist that only feeds on plants in the carrot family and does not move far from where it overwinters. This means rotating away from last year's carrots, celery or celeriac can reduce problems.
How far should you rotate? While this pest is not highly mobile, it can still move, so rotating "down the road" will be better than "across the street." The grubs that are currently in the roots will likely finish development in September and emerge as adults that overwinter.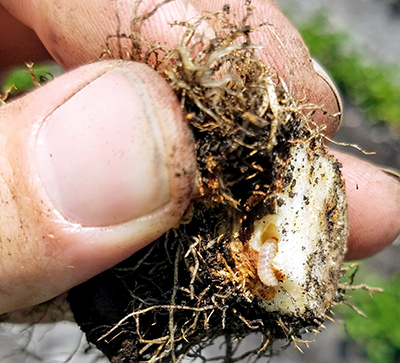 Cucurbit downy mildew was confirmed from Muskegon County cucumbers this Monday, July 24. Cantaloupe and cucumbers should be protected with downy mildew fungicides. Powdery mildew spray programs are in full swing in Ottawa County, zucchini harvest continues in Oceana County.
Early varieties of onions have been tipping over in Grant and Hudsonville, and harvest is expected to begin shortly. If you applied Radiant last week for thrips control, now is a good time for a second application.
For peppers, the second flight or European corn borer is predicted to be ongoing based on weather at the Hudsonville Enviroweather station. Coragen (one day pre-harvest interval) and Orthene (seven day pre-harvest interval) have provided the most consistent control in trials.
Growers from Kent and Ottawa counties have reported only a small percentage of corn with caterpillar infestation to date. Other educators report only low trap catches of corn earworm in pheromone traps, which I have also observed up to last week.
Western bean cutworm larvae were hatching on silage corn I visited in Ottawa County this week. An application of a pyrethroid around tasseling can help control this pest. If you start your corn earworm program promptly at silking, this should also take care of western bean cutworm.
---
Related Articles