Abdulaziz Alfarhan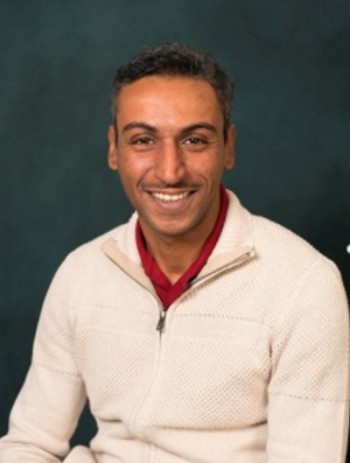 Department of Food Science and Human Nutrition
PhD student in Human Nutrition
Degree program: PhD in Human Nutrition
Faculty advisor: Dr. Joseph Carlson
Abdulaziz Kh. Al-Farhan, MSc, "Aziz" is an international graduate student from Kuwait, within the Division of Sports Nutrition and Cardiovascular Nutrition in the Department of Radiology. Aziz earned his Bachelor's degree in Nutrition Management/Dietetics from Oregon State University in 2007. He received a Master's degree in Nutrition Sciences/Dietetic Internship from Kent State University in 2011. Currently, he is pursuing a PhD in Human Nutrition in the Department of Food Science and Human Nutrition at Michigan State University, since the fall of 2014. As a PhD candidate at MSU, he works as a graduate assistant and team leader for (S)Partners for Heart Health program and a teaching assistant for HNF 457 Sports Nutrition. Dr. Joseph Carlson is his primary advisor and chairperson of his dissertation committee.
Aziz's dissertation topic involves "Comparison of Kuwaiti and US (State of Michigan) Children's nutritional Intake and Dietary Quality, and Cardiovascular disease (CVD) Risk Factor Status". His dissertation objectives include: 1) Assessing CVD risk factors and determine their prevalence among children from Kuwait; 2) Evaluating nutrient intakes and dietary quality among Kuwait children, and to determine the proportion (%) who are meeting World Health Organization and US nutrition guidelines; 3) To compare nutritional intakes and diet quality, and CVD risk factors between children from Kuwait and the US. Currently, Aziz is analyzing data collected in Kuwait between (Jan 2018 – April 2018) to prepare as abstracts, and to participate in scientific meetings in 2018-2019.
Aziz is a teaching faculty member in the Department of Biomedical Science at the College of Nursing in Kuwait since 2011. His research experience from his master's degree included a research abstract- Al-Farhan A, Gordon K, Caine-Bish N, Burzminski N. Dietary Intake of Arab International Students in the United States (July 2012). Journal of Nutrition Education & Behavior; Jul/Aug2012 Supplement, Vol. 44 Issue 4S1, pS60 including Poster Presentation at the Society for Nutrition Education and Behavior Annual Meeting 2012 in Washington, DC. In relation to that, he recently submitted a manuscript to the Journal of Food Science and Nutrition. His future publication plan is to publish a methodology research on developing and retesting a translated and modified "Block Kids 2004 Food frequency Questionnaire (FFQ)", which he did by working with NutritionQuest Company (http://nutritionquest.com/) , Torin Block and staff, and used in his current dissertation topic.
Memberships and Honors
2010- Present Member- Golden Key International Honor Society
2009 - Present Member- Academy of Nutrition and Dietetics
2009 – Present Affiliate- Ohio Dietetics Association
2004, 2009, 2014 Scientific Scholarship, Public Authority for Applied Education & Training (PAAET), Kuwait
2000 Scientific Scholarship, Ministry of Higher Education, Kuwait