Allie Shoffner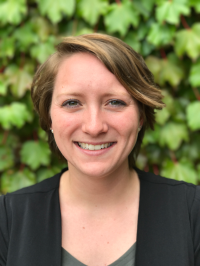 ---
Location:
17 Natural Resources
Major Advisor: David Williams
Biography: Allie is a first-year Ph.D. candidate advised by Dr. David Williams. She grew up between Pennsylvania, Ohio, and Georgia, and completed her undergraduate studies at Penn State. She graduated from Penn State with dual B.S. degrees in Biology and Wildlife and Fisheries Science, with honors in Entomology. She worked as a veterinary technician in Boston for a few years, then went back to school for a Master's degree at the University of North Carolina at Charlotte. Her M.S. research focused on urban landscape ecology, particularly as it pertains to songbird diversity in forested landscapes. She is now beginning her Ph.D. studies in the Quantitative Wildlife Center, where she will be examining factors affecting American woodcock reproductive success in Michigan. Outside of school, she enjoys traveling, playing volleyball, and all things outdoors!
Affiliated Pages: Boone and Crockett Quantitative Wildlife Center