Andrew Carlson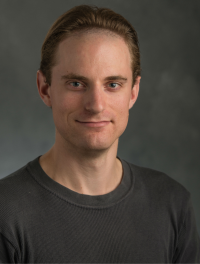 ---
Location:
Manly Miles
---
Department of Fisheries and Wildlife

---
Major Advisor: William Taylor
Biography: I graduated with a B.S. degree in Conservation Biology and Fisheries & Wildlife from the University of Minnesota, in 2012. During my undergraduate tenure, I interned for three years with the Minnesota Department of Natural Resources (MNDNR), assisting with indices of environmental quality for streams and lakes, and studied the sense of smell in goldfish. I also authored an honors thesis examining patterns in brown trout growth and age structure in southeast Minnesota streams. I completed an M.S. degree in the Department of Natural Resource Management at South Dakota State University. There, I helped develop a predictive tool to quantify walleye movement and entrainment (i.e., dam passage) in Missouri River reservoirs using otolith microchemistry. I also assessed changes in fish communities and aquatic habitats in riverine deltas in response to a catastrophic flood and evaluated predictive management of invasive Asian carps in the United States. Now, I serve as President of the Student Subsection of the Education Section of the American Fisheries Society. In this dual leadership and service role, I represent fisheries students by coordinating programs that recruit and retain fisheries professionals, educate students about fisheries science and graduate school, convey scientific information to society, and teach youth about aquatic ecosystems. I look forward to my experience at Michigan State University!