Judith Barry
Center for Regional Food Systems, Assistant Director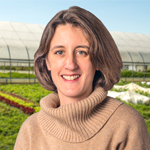 barryjud@msu.edu
Telephone: 517-432-0308

---
Department of Community Sustainability
Center for Regional Food Systems

---
CSUS Specialists & Fixed-Term Faculty

---
Topic Areas:
Michigan Meat Network, Livestock Work Group, Michigan Good Food Charter
Jude Barry is assistant director of the MSU Center for Regional Food Systems. Jude's responsibilities include coordinating the Center's advisory board and supporting the director as he develops the strategic direction and realizes the mission of the Center. Jude has worked at CRFS since 2012. Her work has included co-coordinating the Michigan Good Food Charter and the CRFS Livestock Work Group. More recently, she is supporting the evaluation of the Michigan Good Food Fund. Over the last 20 years, she has worked in agricultural business development, marketing, education and outreach roles in industry and academia in Michigan, England and across New York State. Jude earned her BSc in Animal Science from Edinburgh University, UK and her PhD in Applied Biochemistry from The University of Nottingham, UK.
Jude's aspirations lie in the development of a good food system driven by market demand and rooted in community needs, that incorporates all types of local and regional agricultural growers and producers: small, large and all in between.