Lauren H. Brown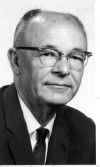 Department of Agricultural, Food, and Resource Economics
Professor Emeritus
AEC/AFRE Faculty, 1936 to 1974

Deceased
Degree:
Ph.D.,1948. Purdue University
MS., 1932. University of Illinois
B.S., 1931. Michigan State University
---
Bio-Info
Professor Emeritus Lauren Hiram Brown was born June 12th, 1909 in Maple Rapids, Michigan. Dr. Brown was a Professor of Agricultural Economics at Michigan State University. Dr. Brown earned his B.S. from Michigan State in 1931, M.S. from the University of Illinois in 1932, and Ph.D. from Purdue University in 1948. Formerly, fieldsman, Federal Land Bank of Springfield, Massachusetts, 1933-36. Worked with Halderman Management Service 1948-49. Dr. Brown was an Assistant Professor of Farm Management at MSU from 1936-1943, an Associate Professor of Agricultural Economics from 1943-1948, 1949-1951, and was promoted to Full Professor in 1952. He was also a full-time extension specialist in farm management, and remained at Michigan State University in the Department of Agricultural Economics until his retirement in July, 1974.
Dr. Brown's fields of specialty were farm business analysis, enterprise cost and return analysis, credit analysis, farm budgeting, farm record development and analysis, dairy farm management, farm labor relations, and farm family operating agreements. Numerous publications were produced by Dr. Brown in agricultural journals and magazines, especially his applied research based on farm record data. He also was on leave eight months in 1956 in western European countries, with O.E.E.C., the Organization for European Economic Cooperation.
Dr. Brown was married to Doris Brown and had one daughter, Mrs. James (Lauralea) Berns; two sons, Roger H. and Thomas J; and eight grandchildren. Dr. Lauren Hiram Brown died January 6th, 1984 in East Lansing, Michigan.
Students
Pubs Online
Selected publications, many downloadable:
Notable Docs/Pres