David A. Hennessy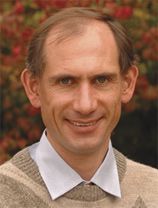 hennes64@anr.msu.edu
Telephone: Rm 207 Morrill Hall of Agriculture
Cellphone: 517 353 2128

Department of Agricultural, Food, and Resource Economics
Professor and Elton R. Smith Chair in Food and Agricultural Policy
446 W. Circle, Dr., Rm 207, Morrill Hall of Agriculture
East Lansing MI 48824
Degree:
Ph.D., Iowa State University
M.A., University College Dublin
B.A., University College Dublin
---
Professor David A. Hennessy joined the faculty at Michigan State University in Fall 2015 as Elton R. Smith Professor of Food and Agricultural Policy in the tenure system. His research, teaching and outreach interests concern production agriculture and its interfaces with finance and risk management, industry organization, food safety and food quality, and the environment. His programs emphasizing the integration of microeconomic theory with empirics. Dr. Hennessy is appointed in the tenure system.
Hennessy previously served on faculty at Washington State University and at Iowa State University, where he continues to have an appointment. He received his Bachelor and Master of Agricultural Science degrees from University College, Dublin and his PhD in Economics from Iowa State University. Hennessy has published widely in professional journals. Service to the profession has included a term as associate editor of the American Journal of Agricultural Economics and as editorial council member for the Journal of Agricultural and Resource Economics, and consultant to the FAO. Named a Fellow of the Agricultural and Applied Economics Association in 2010, he was co-editor of the American Journal of Agricultural Economics for volumes 93-96 (2011-2014). He is currently working on Agricultural Production, Land Use Changes and Climate Changes in Western Corn Belt.
Research and Outreach Interests
Animal health management
Cropping systems and technology adoption
Land use
Applied microeconomic theory
Behavioral economics in agriculture
Risk and information
Student Mentoring